Managing multiple social media accounts can be quite a challenge. Also, social media is constantly evolving. Staying up-to-date on changes is crucial for continued success on social media platforms.
Why you need to work with a professional social media manager
A professional social media manager can create content consistently at a high level of quality, helping you establish a presence on social media, build your brand and give it a voice.
Social media specialists also keep track of new trends and algorithm changes on various platforms. They can then adapt your content and marketing strategy based on what's working best on each platform.
TikTok now has more than 1 billion active users globally. Other social media platforms also keep coming up with several new features all the time. YouTube Shorts and Instagram Reels are fairly recent additions, but these features have become immensely popular. A social media account manager can help you use these new features to your advantage.
They can turn your social media audience into brand ambassadors who can share the benefits of using your products. 71% of people are likely to recommend a brand on social media after a positive customer experience.
As your audience grows, the trust and credibility in your brand also grow. Having a social media audience also helps you generate interest for your products and services.
How much does social media management cost in 2022?
You could employ a social media management agency that charges on a monthly basis, or you could hire a freelancer who charges by the hour. In any case, you're wondering how much is a social media manager? How much do social media managers make per hour?
What are the typical prices of social media agencies?
Outsourcing social media content creation can be expensive. Services from an agency start at $50/hour, and the monthly cost of a social media content package from an agency ranges from $900 to $3,000.
This will be determined by the number of platforms you want to create content for as well as the sort of content you would like them to generate and distribute.
Typical rates of freelance social media managers
A freelancer may be more budget-friendly than most agencies.
But simply because it's one person trying to serve multiple clients at once, you'll notice it's hard to find someone who can consistently meet deadlines and deliver content for you at the same level of quality 365 days a year.
Freelancers often charge an hourly rate for social media management services. That's typical on markeplaces: an Upwork social media manager will charge from $15/h.
Outside of marketplaces, Social media freelancers with 3+ years of experience will usually charge $45/hr or more.
These are the typical rates charged by freelancers, based on their level of experience:
· With less than 3 years of experience: $25 – $35 per hour
· 3-5 years experience: $35–50/hour
· Five to ten years of experience: $50 per hour or more
How much will a hired social media manager cost?
Someone you hire to be in charge of social media will of course do more than just creating content for your social networks, though that will be an important part of their job.
Other tasks a hired social media manager will usually do:
- Create blog and site content
- Engage and respond to comments and replies on social media
- Manage paid ad campaigns
- Collaborate with external agencies and freelancers
- Report on social media and traffic metrics
- Manage promotional campaigns on social media
- Create events and other initiatives to engage customers online
What Is the Salary of A Social Media Manager?
The typical salary for a social media manager ranges between $30,000 to $80,000 per year. 
According to PayScale the average salary of a social media manager comes to around $52,928 per year, not counting any bonuses given.
However, it is worth acknowledging that several factors affect a social media manager's salary.
On the low end of the salary scale, you can expect to pay a junior social media manager $35k per year. Typically, you should expect to pay $45-$85k per year for a more experienced social media manager to work full time as part of your team.
But this is just part of the cost, you'll need to add benefits, taxes and your time to manage them in your calculations.
Parameters that Influence a Social Media Manager's Salary
Location
Salaries vary significantly depending on the country and city you are in. 
In comparison to the US, Glassdoor reports the average base salary of a social media manager in the UK to be at £32,030 which is roughly equivalent to $42,704.
In France, the figure comes to €36,588 which is $40,487.
Within the US itself, Indeed shares differences in salary depending on which city you are working in.
The salary in Los Angeles is reported at $56,557 a year, while in California the average is $65,698. Social media managers make the most in San Francisco with $78,708 which is 24% higher than average.
These differences are due to differences in living costs in these locations, as well as the demand for social media management services. As you would expect, in larger cities with greater concentration of industry and companies, there is a higher demand for social media managers. 
Experience
A social media manager's salary will also be affected by how many years of experience they have under their belt and thus what level of experience they qualify for.
(Image Source: PayScale)
As you can see from PayScale's findings in the image above, having 1-4 years of experience leads to an average salary of $50,000, while having between 5-9 years of experience averages a salary at $62,000, and 10-19 years of experience increasing the average to $70,000. 
So you can expect different salaries depending on where a social media manager is at in their career. 
Responsibilities
Not all social media managers will share the same responsibilities. Some positions may ask the employee to take on duties such as marketing strategy, copywriting, designing, or customer service as well. 
These different responsibilities under the title of social media manager can make the same role a vastly different experience in different companies.
In one company, the social media manager's responsibilities may put them working along the lines of a Marketing Manager, whereas in another company, they could be given the responsibilities of a Social Media Director, coordinating a team of social media managers (PayScale).
The different skills that may be asked to undertake different responsibilities include Corporate Communications, Team Management, Campaign Management, Paid Media Marketing, Branding and/or more. All of which have an effect on salary. 
Industry
A social media manager can work in several different industries, such as tech, media, hospitality, e-commerce, and more.
According to Zippia, this is what social media managers make in different industries:
Internet: $79,401
Tech: $76,786
Manufacturing: $71,841
Media: $68,886
Finance: $68,394
Retail: $68,247
What if there was an alternative?
The first alternative you should consider to hiring a social media agency or freelancer is working with us at MixBloom. It's not exactly the same, but if what you're looking for is help with creating high quality, engaging content, that's exactly what we focus on!
Here's why MixBloom is better than most alternatives:
- We're cheaper, with plans starting at $199/month to $449/month
- We hire only the best social media managers (really, we're very selective)
- We focus on providing high quality content
- You get a dedicated social media manager (or more than one if you need that)
- We offer unlimited revisions
- We post to all social media channels for you
- We focus exclusively on content creation
- Our dashboard helps you approve and feedback on the content we create
Here's what we don't do:
- Engagement (i.e. responding to comments and replies)
- Paid Ads management (e.g. running paid campaigns on Facebook)
- We don't do "growth" activities like following and engaging with social media users
MixBloom helps you engage your customers with custom social media content.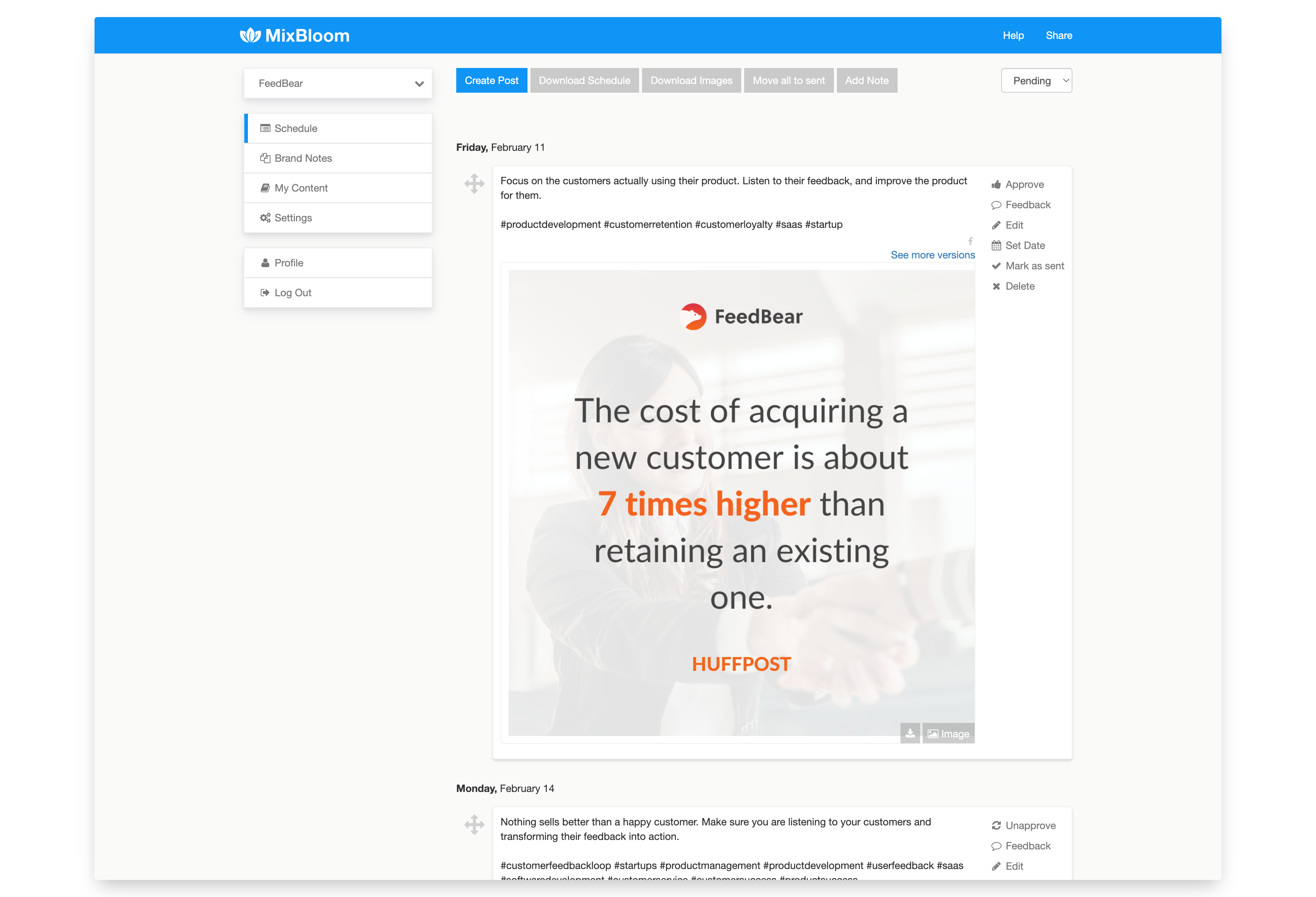 With talented creatives and easy to use software, MixBloom helps you manage your social media content with ease. We help you with your strategy and then deliver content consistently every two weeks.
We'll have a social media manager assigned to your brand and you'll communicate directly with them. You get one-on-one attention from an experienced creative while also enjoying the support of the rest of the team. We have streamlined processes in place, which ensures that we never miss a deadline.
Unlike working with a freelance social media manager, we're reliable, deliver content always on time and cover every step of the content creation process, including unlimited revisions and publishing.
How's MixBloom better than working with a freelancer?
- We provide a consistent service
- We can handle as many brands and as much content as you want - it scales!
- We never miss a deadline
- We charge similar rates to a freelancer
The content created by MixBloom includes original images, copywriting, hashtags, and content versions adapted to all social media networks. We also include scheduling, unlimited revisions, and publishing to different social media networks.
We handle the entire social media content creation process for your brand, allowing you to focus on your core expertise.
Posting frequently and consistently on social media is important to maintain visibility, and MixBloom ensures that your content is posted right on schedule.
You can review the content and also send feedback on individual posts. You can approve the content or ask for changes as needed.
For digital agencies offering social media content management to their clients, MixBloom is the best choice in the market offering a white label dashboard and services they can easily resell.
If you're a brand looking to get professional help for managing your social media content, look no further. Learn more about MixBloom and get started with a free trial.