Using social media to market your brand can be incredibly effective. After all, social media is used every day by billions of people around the world. However, social media marketing requires consistency, as well as up-to-date content in order to successfully drive traffic to your target pages or products.
This can be incredibly time-consuming. In fact, many social and content marketers would complain that social media management is the most time-consuming part of their job. 
There's a remedy for that, though, and it could just boost your success rates in social media marketing. Using an automation tool for social networks like Twitter, Instagram, and Facebook helps you keep your post rate consistent, provides you with fresh, evergreen content and helps you track statistics and data on your content so that you can consistently grown and improve your social channels.
A social media automation tool takes the guesswork out of choosing and posting content and will leave you with plenty of free time on your hands.
But it's not that simple, you can't just pick the best social media automation tool, load some content and forget about it – the risk is sounding like a robot and losing a human touch!
Why Use an Automation Tool for Your Social Media Channels?
Using an automation tool that covers the popular social media platforms, allows you to add regular updates to your social media accounts and can help you keep your social accounts up to date, drive traffic to your site, increase engagement with your posts, and leave you with extra time on your hands to tend to other important tasks.
There are multiple tools out there that will manage your social media accounts for you, some of which will even provide you with fresh content, help you keep a lookout for the competition, and provide you with suggestions like the best hashtags and posting times for your sites.
Some of these management tools also provide analytics so that you can see what works and what doesn't, which allows you to alter your content accordingly.
Because keeping fresh content circulating around your site is one of the most important factors in follower retention, an automatic manager for your social management accounts can really boost your follower engagement and keep your traffic consistent, without always costing you time out of your busy day. 
Most social media automation tools also allow you to post across all of your social media channels at once, which helps keep your sites consistent and saves you even more time.
The best part about automation tools is that you can easily repeat popular content, which keeps your social profiles active and consistently driving traffic.
Drive more traffic by repeating posts
You can expect more shares each time. Typically, if a posting does well the first time it is posted, you will see success if posting it the second time around. You may only get a fraction of the likes or shares with each new posting, but even that is more than if you had only posted the content one time.

You get new followers frequently so old content is still good content. This means that new people are following you all the time so that blog post from last month… it's still new and exciting for them. This helps you continue to provide content to your subscribers, even when you aren't exactly generating anything new. Typically, if it was a popular post, your older subscribers won't mind seeing it again.

Posts can be repeated at specific times in order to make them relevant in different time zones. This helps you reach more followers, including those that don't browse the Internet on your typical schedule.

You can repeat posts in a close time range to help you test out new headlines. This means you can use one headline to share the post then soon after (within an hour or so) share the same post, but with a different headline. This allows you to see how your followers react to different headlines, allowing you to choose the most popular option. 
How to repeat posts without sounding like a robot
Don't post a copy of your old content (this is also against Twitter's rules). Instead, reframe the post to show a different side of the content. You can take the original posting and refer to a specific point in the content, using it to outline your new post's title. This allows you to post the same content, thus driving more content to a specific page, without sounding like you're mindlessly repeating yourself. Also, if the content didn't catch someone's eye the first time, restating it in different words may interest them the second time around.

Space out your repeated posts. This sounds obvious, but you want to include different content in between repeats. One consistently repeated post without the distraction of new content makes your social media efforts look tired and old. The exception to this is when using repeats to perform headline research.

Use images, GIFs, and videos to make repeated content interesting and unique the second time around. Even if you shared the original content with some type of image or GIF, you can change it and share the content with some new imagery the second time around. This will help you gain attention, even on reshared content. 
Other benefits of Social Media Automation Tools
Automatic social media management tools have more than just time-saving benefits. Many of these tools offer tons of extras. Some things to look for include:
Suggested Content: Perhaps the most useful feature of most social media management tools is their ability to suggest useful content to you. This can save you hours of surfing the web for useful and relevant material to post. Generally, the management tool suggests popular content to you based on a set of keywords you outlined or imports your favorite feeds. You can often also use these features to keep up with what your competition is posting as well as see new material posted that mentions your brand. 

Scheduling Suggestions: Some social media management tools will help you decide when the best time to post is by monitoring your social account's activity levels during different parts of the day. You can also see time suggestions based on your follower's different time zones, which helps you post content when it is most likely to be seen, thus increasing traffic and engagements.

Bulk Scheduling and Smart Scheduling: You may find that some social media management tools allow you to schedule posts in bulk while others have a "smart scheduling" system that automatically schedules your posts for you based on the categories you sorted them to.

Tracking Engagements: Some tools will also track your engagements across your different social media profiles. This means you can see how often people interact with particular posts, which helps you determine which type of content, as well as what posting times get the best results. 

Hashtag Suggestions: Using an automated social media management tools that offer hashtag suggestion features will help you tag relevant keywords in order to increase traffic and shares.

Expiring Content: Some tools also have an "expiring content" feature which automatically removes certain content after a chosen date. This is great for limited promotions that are time sensitive. 

Apps and Extensions: To take convenience and time—saving one step further, you can use social media management tools that offer an app. This will allow you to easily and regularly check updates, search content, and see what's happening across all of your accounts from the convenience of your smartphone. Other tools have an extension, such as a Google Chrome extension, which makes it easy to integrate your profiles across all of your devices or simply access all your profiles and your management tools more easily from your browser.
Best Social Media Automation Tools for 2022
Following are some of the best social media automation tools out there for 2022:
MeetEdgar
MeetEdgar is one of the most popular social media automation tools out there. This social media posting tool has lot of positive attributes. Through Edgar, you can easily schedule the post to one of your social media accounts or to all with the use of their queue. The queue has features that set it apart from others though, like the automatic recycling of posts like we mentioned earlier.
Edgar reshares your content to ensure that you never run out of updates. In between reshares, it will pull content from your unlimited content library, where you can share and categorize as many relevant updates as you choose.
The queue can be set to sort through these categories at different times, allowing you to control what type of content is posted around the clock.
Edgar offers other convenient features, too, like an easy to use browser extension and the ability to set content to automatically expire at a given date. You can also use Edgar to create shortened URLs for your posts and import your favorite RSS feeds. 
Post Planner
Post Planner is another popular option that offers similar features, such as the ability to recycle content automatically to keep your feed fresh and active. Post planner also includes a suggested content feature that helps you easily find and share relevant, engaging content to your social media profiles. This makes it easy to drive traffic to your sites without spending too much time searching for interesting content. Post Planner uses given keywords to provide you with popular content that is most useful to you. 
Post Planner uses a strategically integrated analytics system to keep tabs on the data for both future and former posts based on the social media feeds you import, helping you see what type of content is most successful.
Then, you choose from the most successful content to use when creating posts for your social media channels. 
Post Planner will automatically schedule posts for you. All you need to do is save content in categories then create a plan selecting how you would like the categories shared. Post Planner uses their algorithms to share posts to your social media accounts at times when they are most likely to get the most attention, creating increased engagement for your content. 
If you need more than just a tool, then you need MixBloom
One of the main differences between MixBloom and other social media automation tools is that you are matched with a professional social media manager who learns about your brand or business and then curates content specifically for you.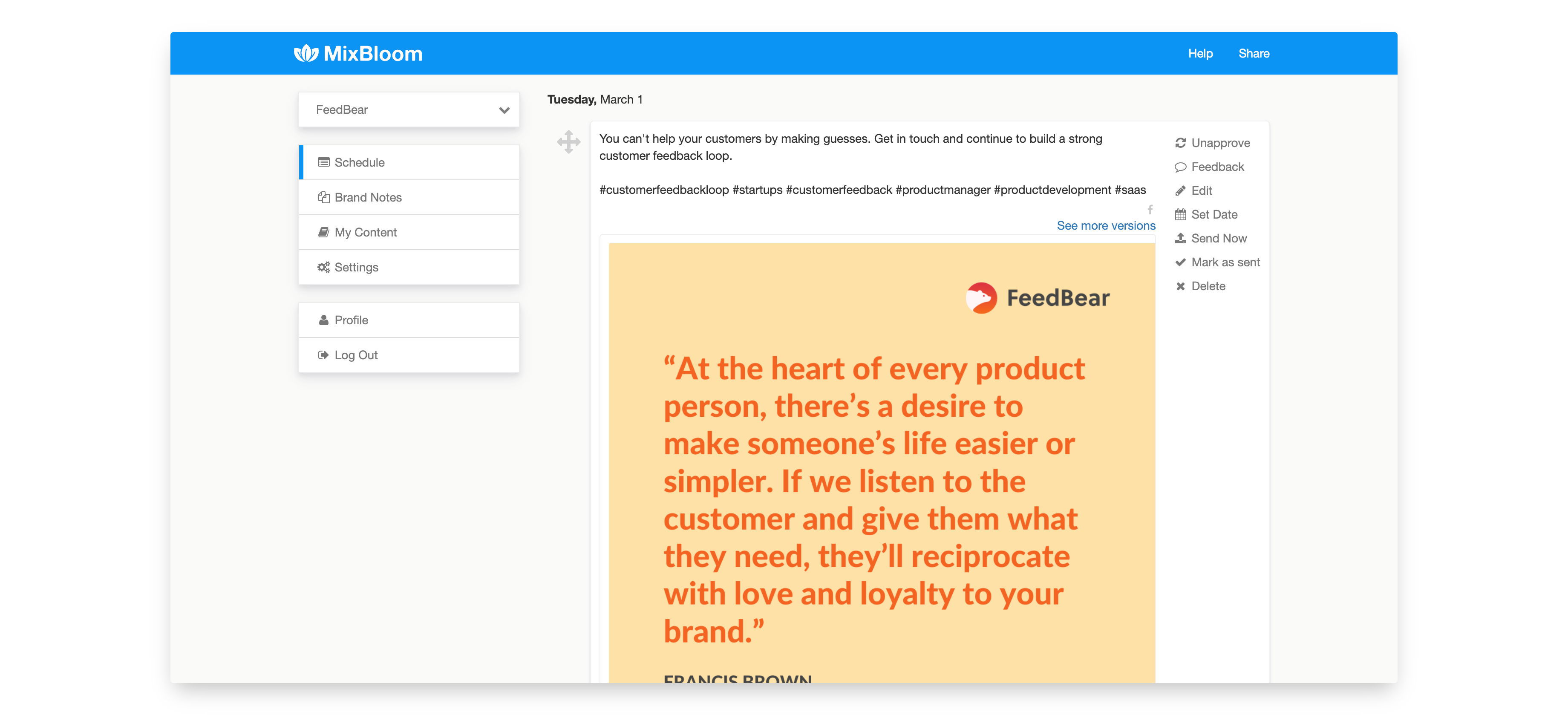 MixBloom combines the benefits of automation with the peace of mind and time saving that comes with an expert taking care of your social media content. With all the other tools you need to do all the work – with MixBloom, we do it all for you.
A full schedule of content is provided to you weekly for review and your approval before it is automatically sent to your Buffer account to be posted throughout your social media pages.
You just sit back, relax and wait for your next batch of content to be ready!
Something else that's unique about MixBloom is our white label social media management services, designed specifically for agencies, allowing them to delegate social media content creation work and present work to their clients with a customized, fully branded portal. Feedback from clients goes straight to our social media managers, so agencies save even more time.
MixBloom can be used to collaborate with your team as well, meaning regular updates and chosen content can be sent to all the members of your marketing team or just those that you choose.
Don't Try to Go it Alone
As a content marketer, your schedule is probably pretty packed, leaving little time for any extra detail. Sometimes, due to this busy schedule, you may not have time to dedicate to creating top-notch content or keeping your social media pages consistent.
Even if you do, if you don't have the tools and availability to properly monitor the success of your posts, leaving you clueless as to why you aren't increasing traffic or customer engagement.
Check out MixBloom, it's a perfect fit for both agencies and brands looking to outsource their social media.