Managing multiple social media accounts can quickly get overwhelming. This is where social media management software can help. Thanks to the automation features of these tools, social media agencies can successfully scale their work for multiple clients, maximizing the reach and impact. 
With white label social media management software, you can deliver content and other services to your clients in a professional way, with your own brand and on your own website. You also save time scheduling posts, improve your team's productivity, and create in-depth reports that help clients make informed decisions.
Why do agencies need dedicated tools?
Even for the most seasoned agencies, managing multiple social media accounts for multiple clients can be complex.
Here are a few reasons why you need a white label social media management tool designed specifically for agencies.
Manage tens or even hundreds of social media accounts
A white label or agency-specific social media management platform can help you give your team access to all of your client's accounts without sharing passwords or requiring your client to give your team access to their social media profiles or tools like Facebook's business manager.
Grouping social media profiles by client
Managing multiple clients with multiple requirements can be a very tough task. When it comes to content and publishing times, many clients may have specific requirements. A good social media management tool allows you to create groups for various social media accounts for convenient scheduling. This feature lets you post on multiple platforms, such as Facebook, Twitter, and more, in just one click.
Present content to clients for review, feedback, and approval
Creating content for social media often means there is a lot of back and forth between agencies and their clients. A social media management tool designed for agencies allows clients to review content and provide feedback directly. They can also approve or reject the content on the tool itself, minimizing email back and forth. This saves time and also helps improve productivity.
Brand the tool with your own logo and domain name
With a white label social media management tool, you can brand the dashboard with your logo, colors, and domain. You can share all content with your clients from a white label dashboard with your branding. Your clients can then review, approve/reject, and leave feedback on individual posts. For approved content, you can schedule and publish content according to the publishing schedule.
Schedule posts
Obvious, but it's essential for agencies to be able to batch up the work and schedule posts in advance. A social media management software for agencies is capable of scheduling posts ahead of time. It can help you align your social media strategy with the business goals of your clients.
Monitor keywords
Social media can provide far more business insight than most other mediums. You can gather customer feedback, competitor information, trends, and more. Social media agencies can help businesses make use of such valuable information to make data-driven decisions. Social media management tools can collect such valuable information, helping businesses improve product and service quality. You can also monitor keywords helping your clients generate more qualified leads.
Measure performance
As an agency, you may experiment with your social media posts, varying the content format, timing, and more. How do you get to know what's working for your client? A social media management tool can not only publish your posts but also analyze how they are performing. The software provides analytical tools to help you analyze the performance of your content.
Collaborate with Your Clients and Teams
A good social media management tool allows your team to collaborate with clients efficiently. You should be able to draft and upload your posts on a calendar, allowing your clients to easily send feedback.
Simplify The Approval Process
You'll want a way for clients to easily review the content and approve what's ready to go out. You'll also need a way to verify who approved what and maintain a log of activity for each social media post.
Best Social Media Management Software for Agencies
When looking for a social media management tool for agencies, the sheer number of options can be overwhelming.
Some of the best ones you may consider include:
MixBloom
Here at MixBloom we offer a social media content creation service and as part of it, a white label social media tool for agencies to review, approve and edit the content we create for your clients. Agencies can share access to a unique white label dashboard with each of their clients, so they can approve and feedback on content directly.
The easy-to-use dashboard is customized with your agency logo and domain name and allows your clients to review content, edit, leave feedback, and approve content. Any change request or feedback is quickly implemented by the MixBloom team, saving you time otherwise spent emailing clients back and forth.
Here's an example of a white label dashboard clients can use to review and approve content:
Pricing for our service starts at $199 a month per brand/client! To try out MixBloom for 14-days risk-free, click the following link: 14-Day Trial
Cloud Campaign
With Cloud Campaign, agencies can create and manage campaigns for multiple brands from a single platform. This makes it easier to track performance, measure results, and make informed decisions about where to allocate resources. Cloud Campaign makes it easy for agencies to manage multiple brands at scale.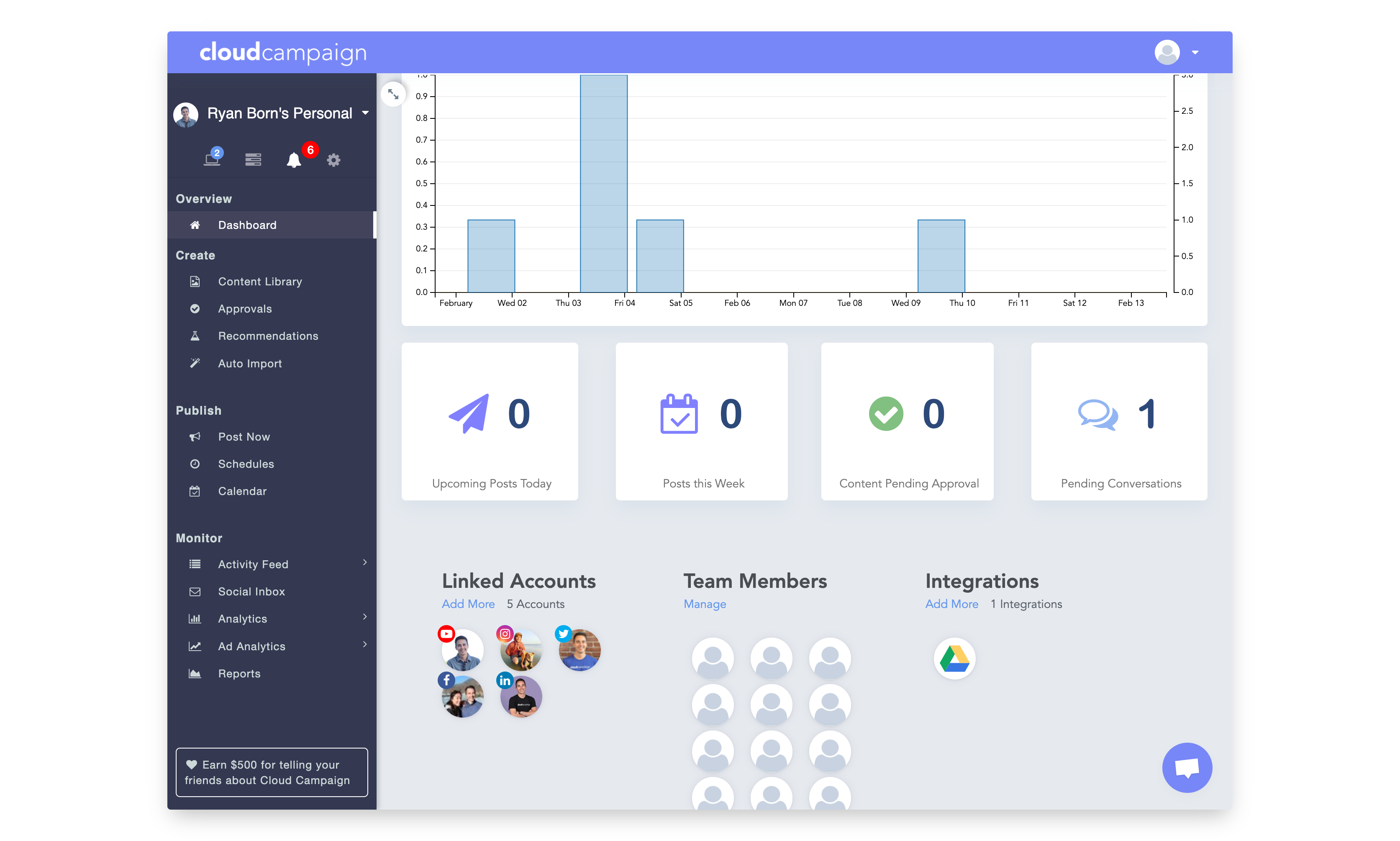 Cloud Campaign allows agencies to create an approval flow for client content. The tool allows posting to Instagram, Facebook, Twitter, LinkedIn, and Google My Business.
Their reporting tool allows you to link Google Analytics and show web stats together with social analytics.
Pricing starts at $39/month per client with unlimited users.
Sendible
Sendible has been around for some time and is a reliable choice among social media management tools. Sendible comes with a centralized hub that allows you to manage social media for multiple clients. Other features include an easy-to-use dashboard, an excellent publishing system, analytical capabilities, and a social CRM. A single brand could have several social media accounts. Sendible creates a separate inbox for each brand, allowing different social media messages from different accounts to be accessed from one place.
Sendible also simplifies the publishing process, allowing you to schedule social media images, posts, or videos individually as well as in bulk. The tool also analyses your clients' social media profiles to suggest content that may resonate more with their audience. The pricing starts at $24 a month and they also offer a free trial.
Planable
Planable offers easy collaboration and an intuitive dashboard for clients, making planning and approving social media content six times faster. Read our review for more details. It has a great UI/UX that helps you organize and prioritize your content better. The ability to plan and preview posts to see exactly how they look published is one of the key benefits of this tool.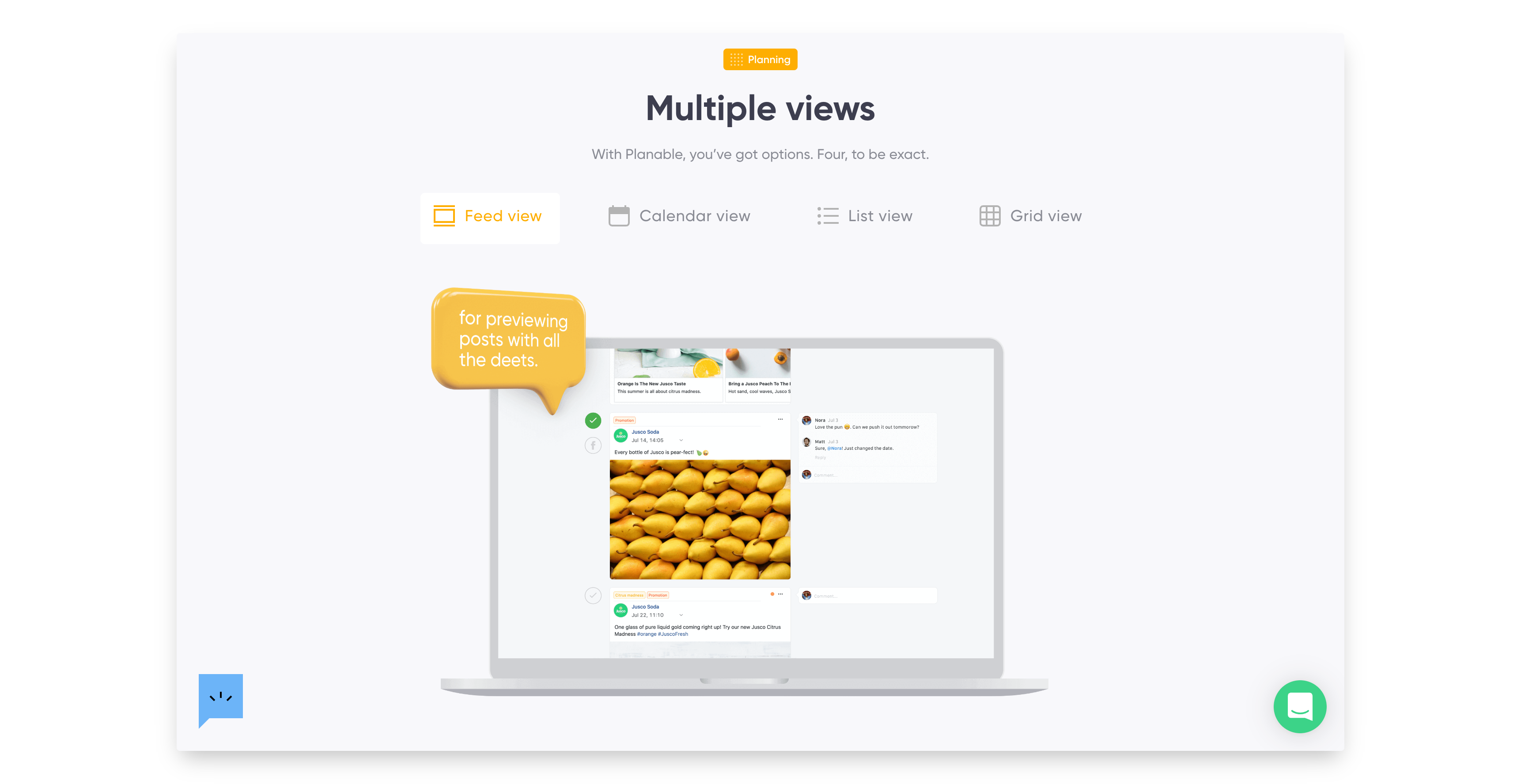 Planable offers a Basic plan for $9 and the Pro plan for $19 per user (ideal for agency use), per brand/client (they call these workspaces). Consider how many users you'll need and how many clients you'll serve to get an idea of costs. With 10 clients, a team of 3 on your end, plus 2 people at the client, you'll spend $950 per month.
HeyOrca
HeyOrca is another solid choice among social media management software. Read our review to find out the details. Planning and scheduling become easy with HeyOrca as you can plan, publish, and schedule posts on several social media platforms at the same time. Collaboration is also fairly easy since you can link your clients and teams to any content that you are working on. Clients can provide feedback directly on the posts, making the process faster and more efficient. They can also approve or reject posts directly on the tool.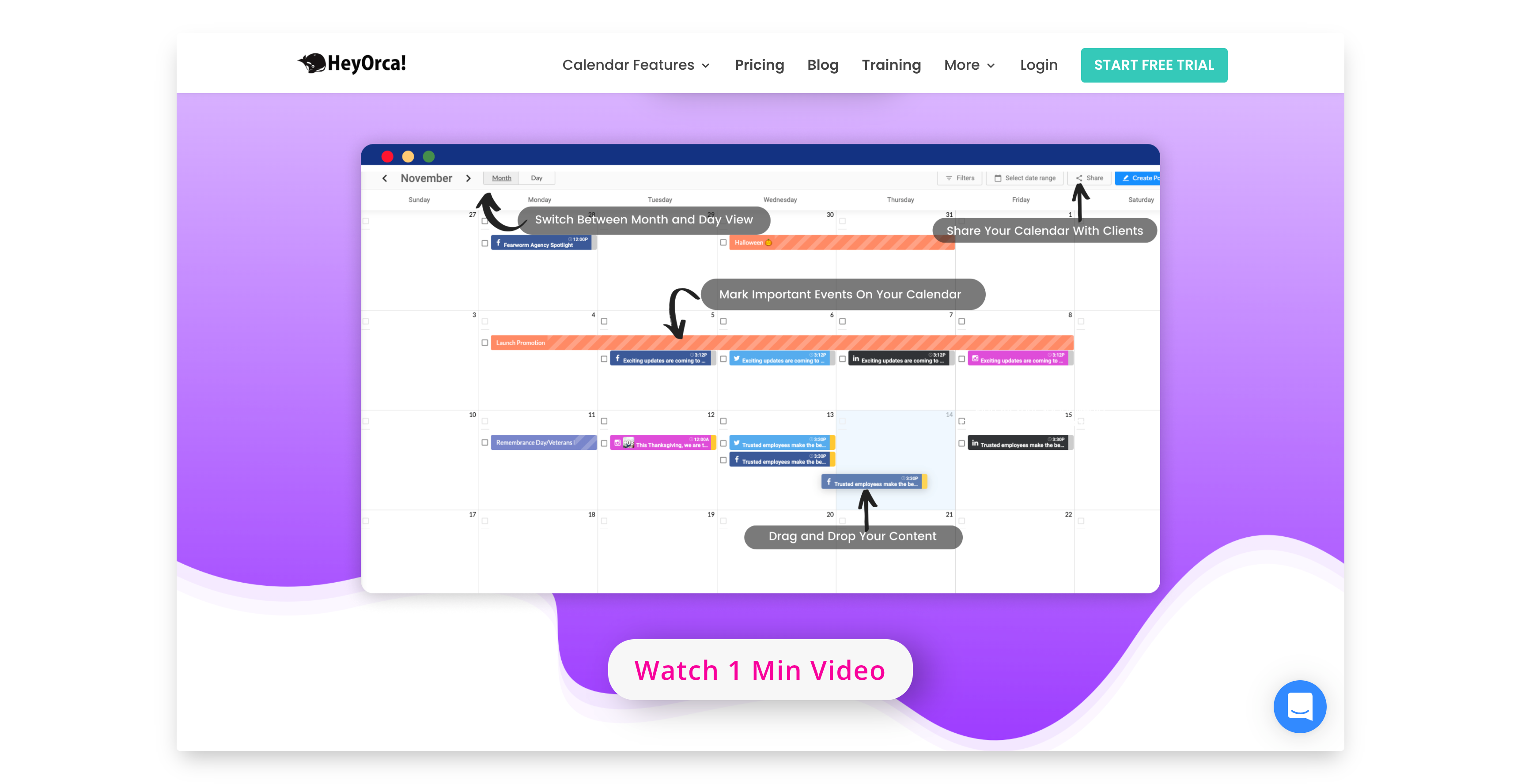 HeyOrca comes with a streamlined dashboard that shows all your clients in the same place. The calendar feature can be used for both content planning and scheduling. Analytics is also easy with several statistics such as post engagement, best-performing posts, number of shares, comments, and more available in one place. Their pricing starts at $49 per month.
CoSchedule
CoSchedule is another good choice in social media management software for agencies. The marketing calendar helps you see, schedule, and share your activities. You can see everything in one place, allowing your higher-ups and clients to see your progress. The marketing suite comes with a host of agile features, helping you manage requests, eliminate bottlenecks, and maximize resources to boost productivity.
You can also group multiple projects or campaigns together, making for easier tracking. Coschedule's products include a marketing calendar and a marketing suite. You can get started for free with the Free package. The Pro package is priced at $29 a month. The Business package can be customized according to your business needs.
Sprout Social
Besides managing social networks and marketing programs, Sprout Social also allows you to deliver customer service on social media. Its wide range of features includes publishing, analytics, messaging, social listening, reporting, and engagement for multiple clients.
You can also create, publish, manage, and schedule social media posts across multiple platforms, as well as track the performance of your marketing campaigns.
You can try Sprout Social's free trial for 30 days. The packages they offer include the Standard package at $89 per month, the Professional package at $149 per month, and the Advanced package at $249 per month.
Hootsuite
Hootsuite allows you to manage multiple social media platforms and accounts from a single dashboard. You can also delegate customer messages to different team members so that they can all be better managed and responded to quickly.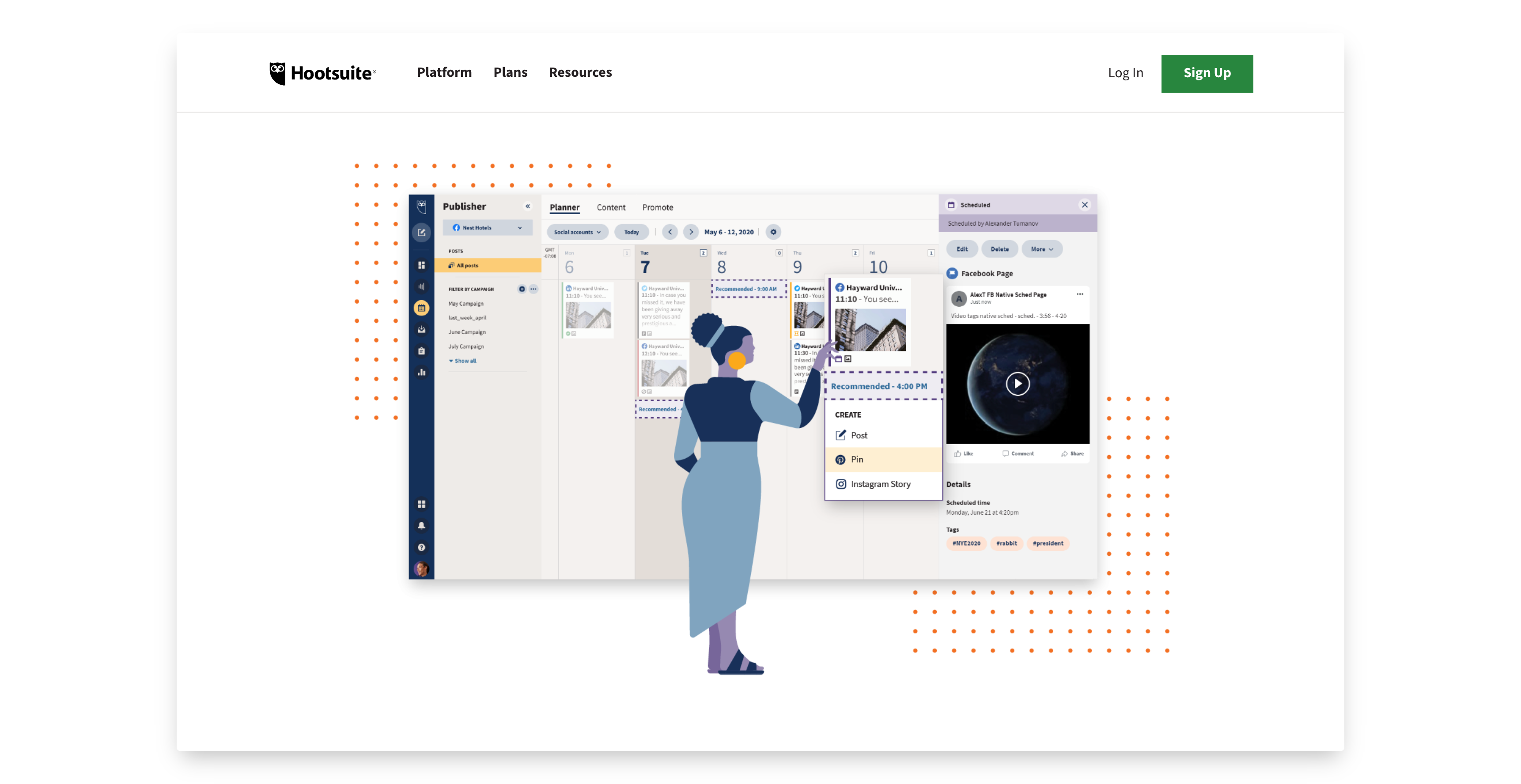 Hootsuite's features also include content curation, allowing you to use hashtags or keywords to view your best content. For easy access, you can store videos, social media posts, GIFs, and more in Hootsuite's content library.
You can try out Hootsuite with a 30-day free trial. There are four other packages available- Professional, Team, Business, and Enterprise. Paid packages start at $29 a month.
Buffer
Buffer is one of the first and one of the best social media scheduling tools on the market. Read our review to learn more about Buffer.
It offers two products - Publish and Analyze. You can use them individually or together, depending on your needs. "Publish" allows you to plan and publish content and collaborate with colleagues and clients. "Analyze" takes care of the analytical part, allowing you to measure social media marketing performance and create detailed reports.
It also offers recommendations that you can use to increase clients' sales, engagement, and reach. Buffer offers a free package and the Essentials package is priced at $5 a month.
Zoho Social
Zoho Social is another good tool that you can use to manage your clients' social media presence. You can schedule as many posts as you like, and flexible scheduling allows you to schedule posts when the audience is most active. You can create your own publishing schedule or choose from Zoho Social's best time predictions.
Zoho's intuitive publishing calendar lets you organize your posts so that you can easily view your content pipeline. Zoho Social offers a free trial. Paid packages start from $15 a month.