Tldr; This post is for you if you're ready to overcome the following challenges:
Low profit margins

Client churn

Finding talent

Doing your own marketing
Sound good? Get ready to scale!
Social media management doesn't have to hurt.
Social media marketing agencies are faced with a number of challenges that make it difficult to scale their business. Some common challenges include low profit margins, client churn, finding talent, and doing your own marketing.
However, there are several solutions available to help agency owners overcome these challenges and grow their social media management business.
Challenges in the current social media landscape
People are spending more and more time on social media, now averaging 147 minutes a day (Statista). According to Forbes, 50 million social media agencies, marketers, and freelancers have risen to the challenge of serving this growing audience - as of 2021, so one can only imagine how many more joined the ranks since then, thanks to the pandemic.
On top of stiff competition, agency owners are faced with low profit margins - for the digital marketing industry as a whole around 18%, but smaller agencies typically average 13% (Mention).
Problem: Low profit margins
Solution: Increase your prices
One of the biggest challenges for even leading social media agencies is maintaining a healthy profit margin.
Many agencies offer services at a low price point for social media services in order to attract clients, but this can lead to razor-thin margins.
To combat this issue, consider increasing your prices. This may seem counterintuitive, but by charging more for your services you can actually attract higher-quality clients who are willing to pay.
Another alternative is working with a white label content partner like MixBloom - we create social media content for other agencies. Typically you hire every time you hit capacity, so cost per clients fluctuate and as soon as you hire someone new you're suddenly in a rush to fill their time. We can help you standardize costs and avoid throwing money away.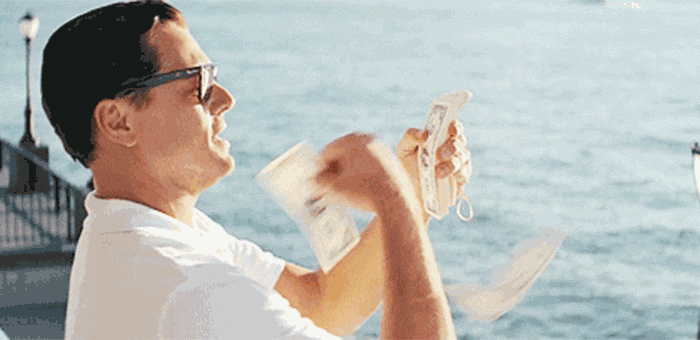 But we'll talk more about that later. Let's get back to the profits: What is fair pricing for social media management services?  
Pricing for social media marketing agencies
One solution to combat low profit margins (and scope creep) is to create tiered pricing packages. This allows for more flexibility in pricing and services offered, while also clearly defining the scope of work for each social media package.
Start by identifying the different levels of social media services you can offer, such as basic, standard, and premium packages. Then, determine what services will be included in each package and set clear boundaries for what is considered additional work.
When presenting these social media packages to clients, make sure to emphasize the value they will receive at each level and how it aligns with their specific social media goals. This can help justify higher prices and prevent scope creep by setting expectations upfront.
In addition to tiered pricing packages, consider offering add-on social media marketing services that clients can purchase separately, such as:
Social media strategy

Analytics

Engagement

Community management

Influencer marketing

Paid social ads
Social media pricing examples
You'll need to calculate all of your overhead costs, research your target audience's marketing budget, and pick prices that land somewhere between the two. Let's check out two examples of social media packages: our own and another agency's.
Here at MixBloom we focus on white label social media content creation & publishing. Our clients are digital and social media marketing companies. We offer 3 tiers - Starter, Business, and Growth - for both of our static and video creation offers: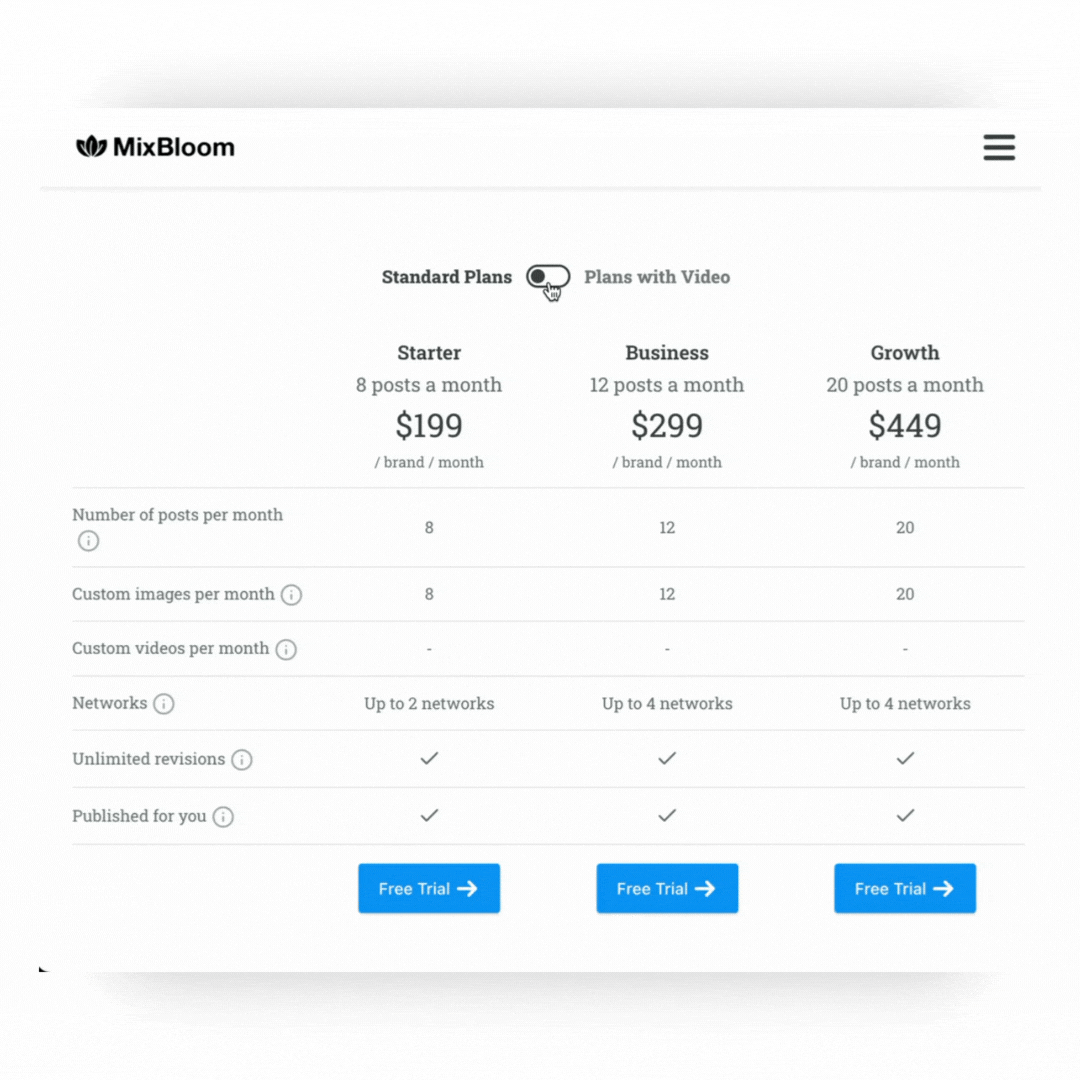 Our plans range from $199 to $549 per month, for up to 4 social media platforms. We can keep prices so low because we have a dedicated team, extremely focused offer, and streamlined workflow which enable us to produce high-quality content in bulk.
This allows us to primarily serve other agencies who then resell our product at prices that are acceptable to their clients - typically brands and small business owners.
Another example is Fasturtle, a full-service digital marketing agency based in Phoenix.
They don't list prices up front, but we can see that they have two social media marketing packages - Business Social and Growth Social - ranging from 12-20 posts a month for up to 4 social media networks: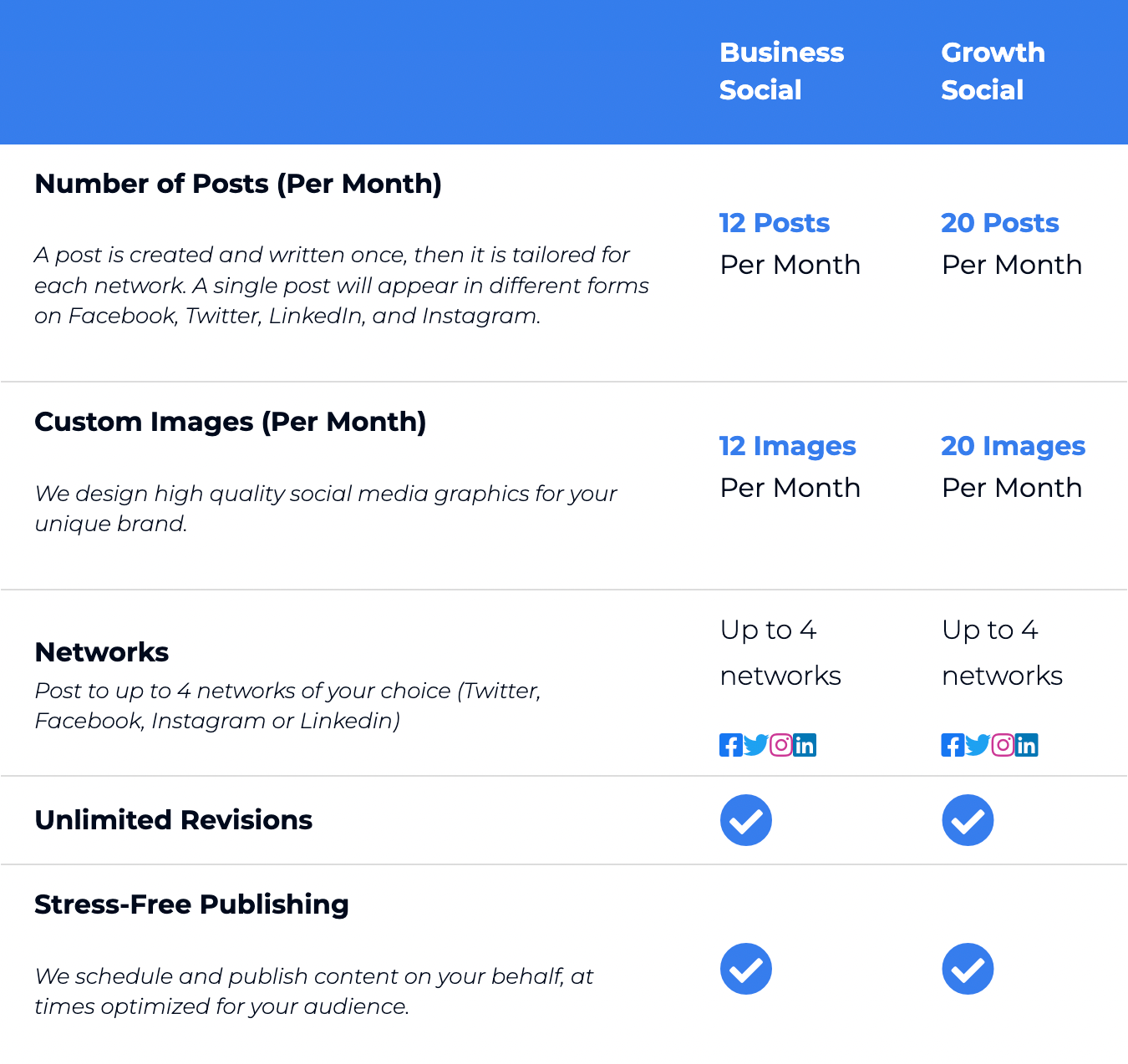 Read more about creating social media packages here.
Problem: Client churn.
Solution: Focus on improving your client relationships
Client churn is a problem for agency owners because it makes your revenue unpredictable, and it typically costs way more to acquire a new client than it does to continually serve an existing one. This problem can be worsened in times of economic instability, where clients may feel the need to scale back their budgets - especially if their digital marketing efforts aren't paying off.
It's best to take a holistic approach to reducing client churn, by focusing on providing the best possible experience for your client before, during and after they start with your agency. We recommend focusing on 3 key areas of your client experience:
Onboarding

Communication

Reviews & referrals
Partnering with a white label solution like MixBloom can help with churn too, by being very consistent and never missing a deadline, simplifying communications, and reducing friction and frustration in your workflow - all of which translate to happy clients.
Before we move onto the finer points of client onboarding - keep in mind you'll want to thoroughly document each stage of the process so that you don't have to reinvent the wheel for every client.
Client onboarding
The onboarding process is crucial for setting the tone of your client relationships. It's important to make a great first impression by providing clear communication and setting expectations from the beginning.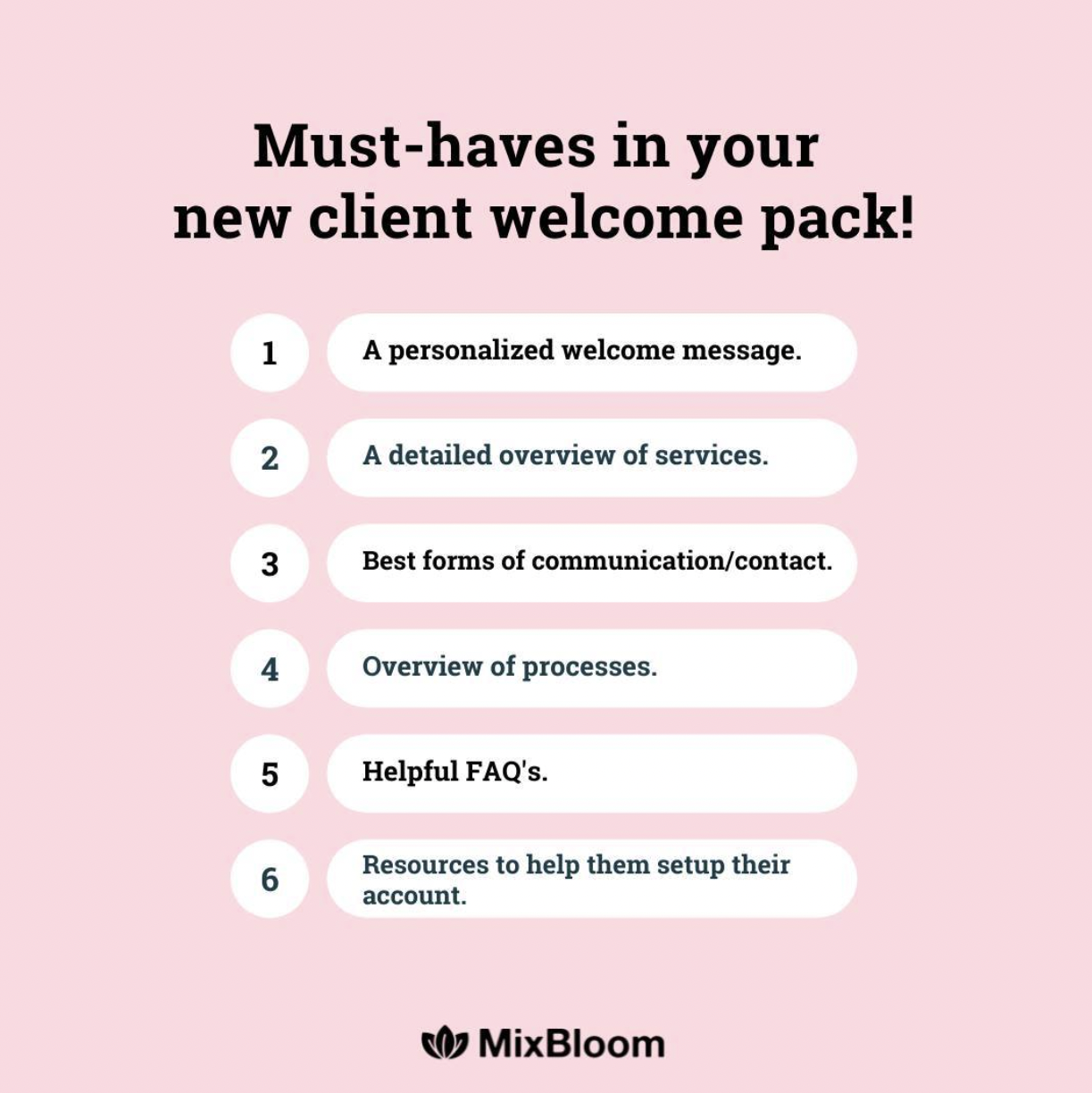 Start by gathering all necessary information about your client's business goals, target audience, and current social media presence.
Next, create a customized strategy that outlines how you will achieve their goals through social media marketing. This strategy should be detailed and specific, including what platforms will be used, what type of content will be posted, and how success will be measured.
During the onboarding process, it's also important to establish regular check-ins with your clients to ensure they are satisfied with the progress being made. This can include scheduled calls or meetings.
Client communication
Effective communication with clients is key to improving client retention. This means keeping them informed and up-to-date on all aspects of their social media marketing campaigns.
One way to do this is by setting clear expectations for how often you will communicate with them and what information will be shared. Regularly scheduled check-ins, progress reports, and analytics updates can help keep your clients engaged and invested in the success of their campaigns.
Another important aspect of client communication is responsiveness. Make sure you are available to answer any questions or concerns they may have in a timely manner. This can build trust and demonstrate your commitment to their success.
Lastly, ask for feedback from your clients regularly. This can help identify areas for improvement and show that you value their input. You can do this in a few ways:
During your regular check-in calls

Email surveys

Regular pop-up questionnaires on your client portal or dashboard, if you have one
The way we gather feedback at MixBloom is a mix of all three:
We check in with each of our agency clients monthly to review progress and update the strategy as needed.

In our last round of email surveys to all of our clients, we got very high completion rates by offering Starbucks gift cards to everyone who completed the surveys.

And in our white label dashboard, we set up pop-up questionnaires using ConvertBox to gather feedback on individual topics in a way that is as quick and easy for our clients as possible.
How to get reviews & referrals
Getting positive reviews and referrals from satisfied clients is one of the most effective ways to grow your agency: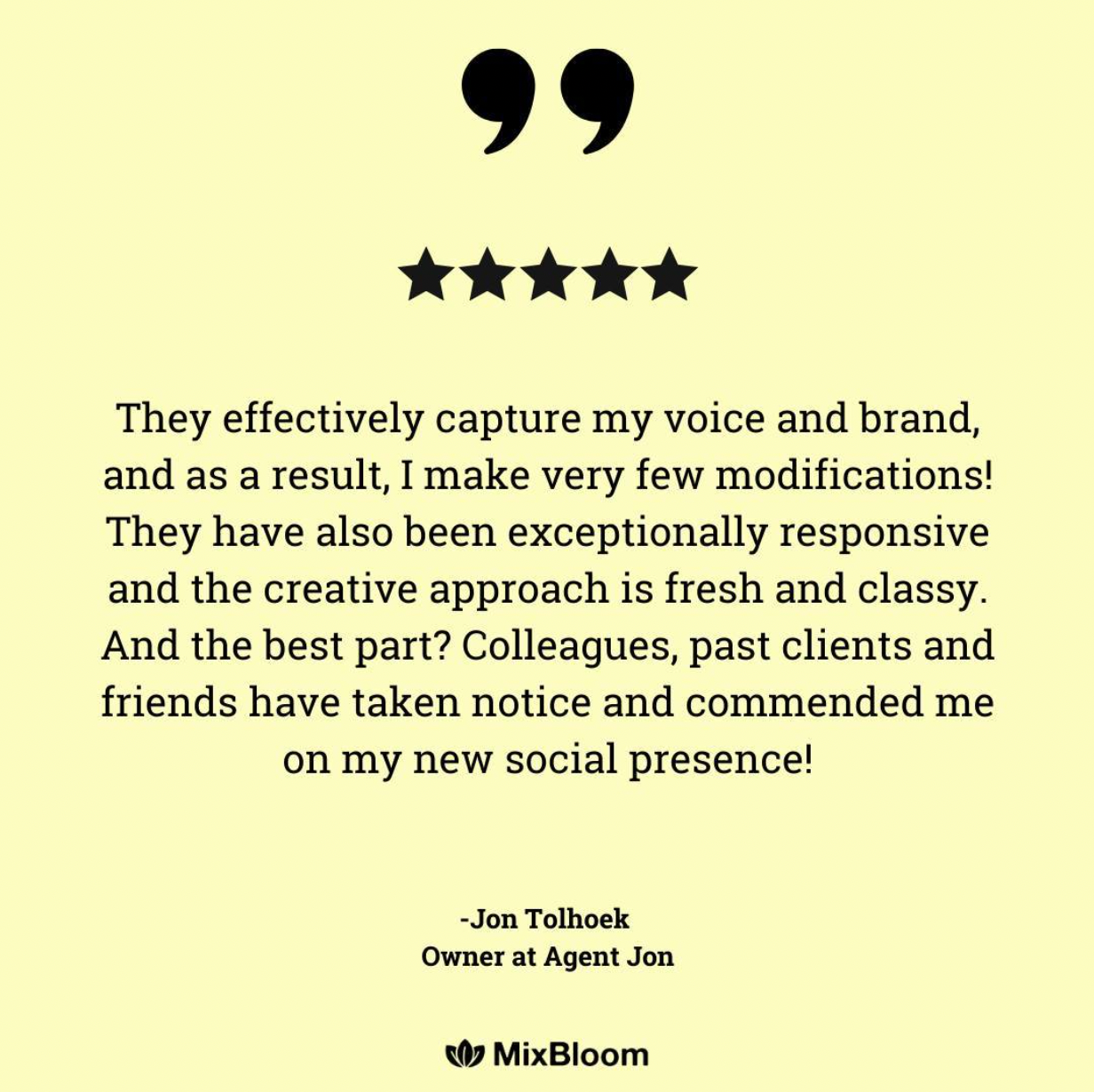 Here are some tips on how to do it:
Deliver exceptional results: The first step to getting positive reviews and referrals is delivering exceptional results for your clients. Make sure you're meeting or exceeding their expectations, and they'll be more likely to recommend you to others.

Ask for feedback: Don't wait for clients to offer feedback; ask for it regularly. This will help you identify areas where you can improve, as well as demonstrate that you value their opinions.

Make it easy: Make it as easy as possible for clients to leave a review or refer others to your agency. Provide clear instructions on how they can do so. You can even demonstrate your social media marketing savvy by incentivizing them to post reviews to social media channels, using dedicated hashtags, and tagging your agency.
Problem: Finding talented employees or freelancers
Solution: Always be in hiring mode
Finding and retaining top-tier creative talent is crucial to the success of any social media marketing agency. Here are some tips for creating a strong hiring, onboarding, and training process.
Hiring process
Always be in hiring mode: Even if you don't have an immediate need for new hires, keep your eyes open for talented individuals that could be a good fit for your agency.

Define the job requirements: Clearly define what skills and experience are required for each position you're looking to fill.

Post job listings in the right places: Utilize job boards, social media, and industry-specific websites to find potential candidates.

Screen resumes and cover letters carefully: Look for candidates who have relevant experience

Interview more than necessary: Don't just stop as soon you find the right candidate. It's best to have a roster of several qualified candidates who you can call in case any roles unexpectedly need to be filled on short notice.
Onboarding new hires
Hiring and onboarding new employees can be a daunting task, but it's essential to the growth of your social media agency.
Your team is the backbone of your agency, so it's critical to find the right people who share your vision and values. To successfully onboard new hires, you need a well-planned - and thoroughly documented - process that ensures they get up to speed quickly and effectively.
One effective strategy is creating a comprehensive training program that covers everything from company culture to specific job responsibilities. Ensure that new hires are aware of the expectations set for their role and provide them with all the necessary resources, tools, and information needed to fulfill their duties.
Here at MixBloom we organize all of our documentation for new hires using Notion.
Training
Training is an ongoing process that should be incorporated into your agency's culture. It's essential to provide your employees with continuous learning opportunities to keep them engaged and motivated. Here are some tips for providing ongoing training:
Create a learning culture: Encourage your team to learn and grow by providing access to resources such as online courses, webinars, and workshops. Make sure that they have the time and space to pursue their interests and develop new skills.

Set goals: Help your employees set achievable goals for their professional development, and establish a plan to achieve those goals.

Offer mentorship programs: Pair experienced staff members with newer hires to provide guidance and support.

Provide feedback: Regularly check in with your team members.
Problem: Keeping up with your own marketing as well as your clients'.
Solution: Create a dedicated in-house team, or outsource your marketing.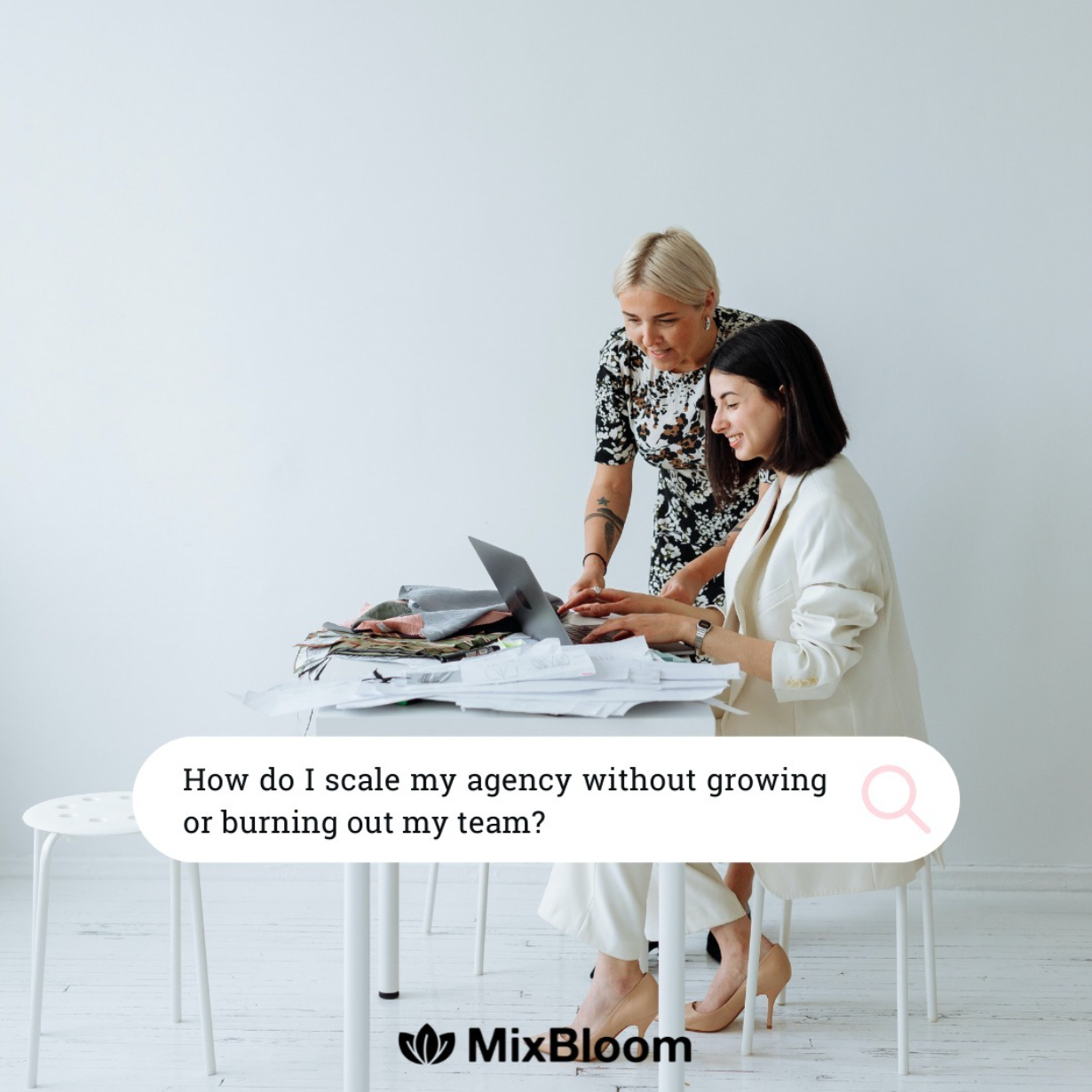 Marketing your own agency can often fall by the wayside when you're busy managing multiple clients' social media accounts. Plus your agency probably needs more services than just the social media marketing that you specialize in, like email marketing, website design services, or cold outreach.
It's crucial to keep up with your own marketing efforts to attract new clients and showcase your expertise in the field. Your options are doing it in-house, or outsourcing.
In-house marketing
Managing your own marketing in-house may seem like a good option:
You have greater control over the messaging and branding of your agency.

You have more direct access to analytics and data.

It can potentially be more cost-effective than outsourcing.
But it can also be time-consuming and take away from your focus on client work. It may also be hard to objectively assess what would truly be best for the growth of your company, especially if what's best falls outside the scope of your own expertise.
Outsourced marketing
Outsourcing your agency's marketing can be a game-changer. It allows you to focus on what you do best - managing your clients' social media accounts - while leaving the marketing of your own agency to experts in the field. You might consider outsourcing the following services:
Email marketing

Paid ads

Web development

Content marketing
But who should you outsource to? There are two main options: freelancers or white label agencies:
Freelancers can be a great option if you have a limited budget and only need specific services like graphic design or copywriting. They typically work on a project-by-project basis.

White label agencies can offer a more comprehensive solution. They can handle everything from strategy development to content creation and even reporting. You'd normally hire them to outsource your client work, but they usually also offer their services to the agencies hiring. We'll discuss this option further in the next section.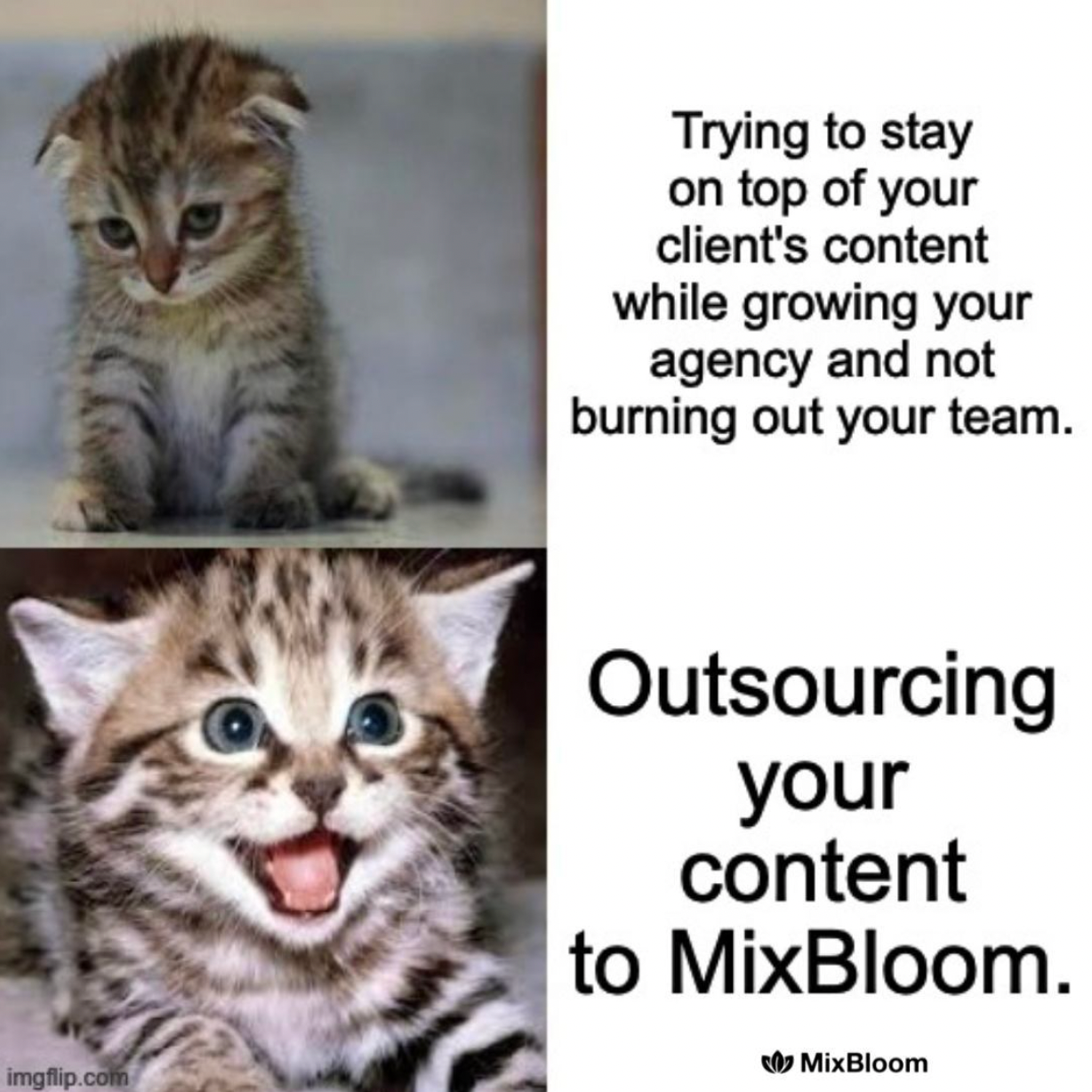 What are white label agencies?
White label agencies are third-party companies that provide services to other businesses under their own brand name. They might offer digital marketing, social media, search engine optimization, and more.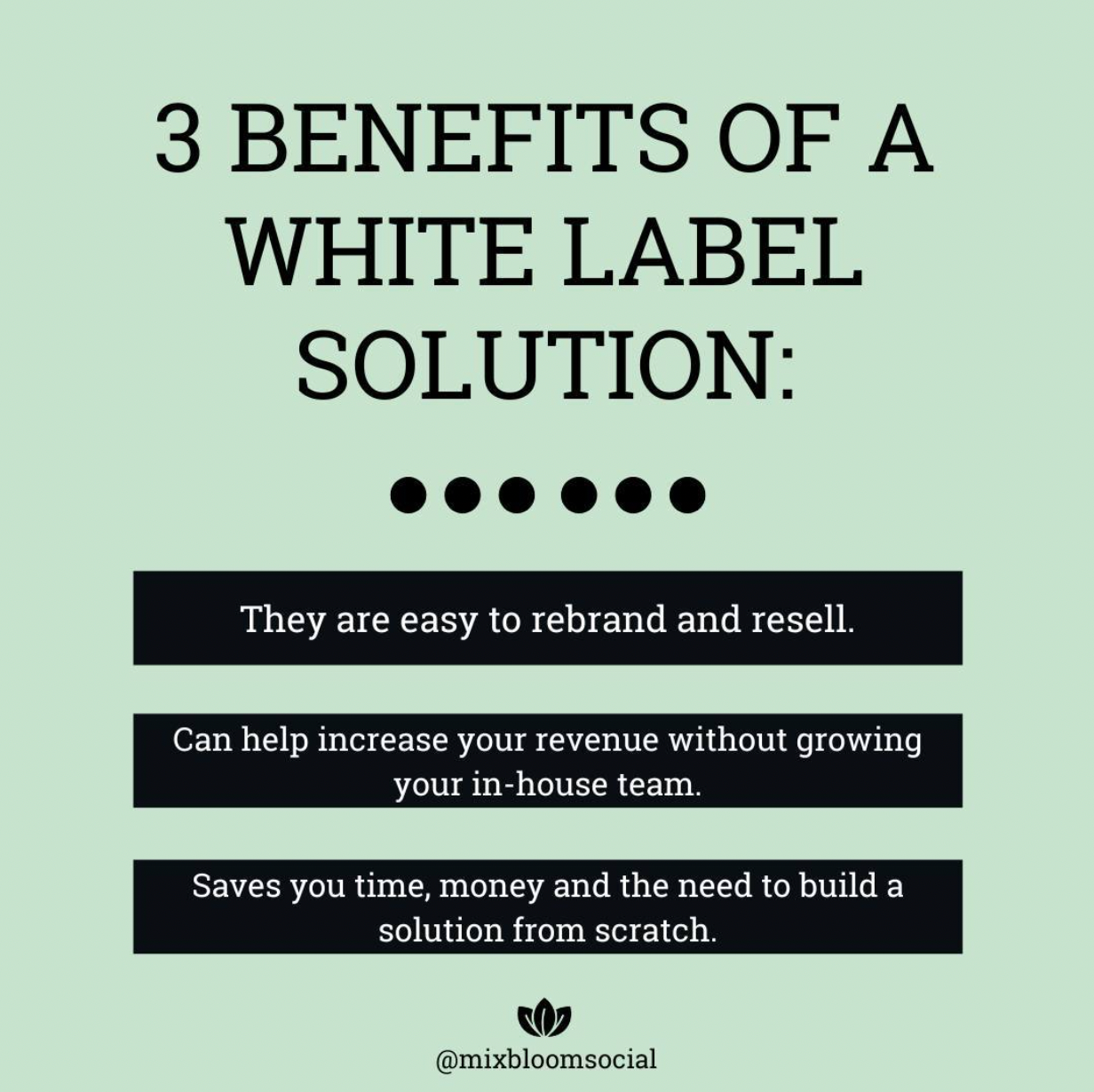 White label agencies that offer social media services specifically act as an extension of your agency and handle some or all the following social media tasks on your behalf:
Developing a comprehensive social media marketing strategy

Social media management

Content creation

Social advertising

Community engagement

Analytics & reporting
Advantages of white label marketing
If you're looking to scale your agency, white label marketing can be a game-changing solution.
One of the biggest advantages of white label marketing is that it allows you to offer a broader range of services without having to hire additional staff or invest in expensive tools and technologies. It also enables you to maintain control over your messaging and branding while benefiting from the expertise and experience of a specialized team.
White label marketing agencies also allow you to focus on managing your clients' social media accounts while leaving the marketing of your own agency in experienced hands.
Another advantage is that white label agencies work under your brand name, so you maintain control over your messaging and branding.
For example, here at MixBloom a major selling point (besides our white label content creation) is our white label dashboard. Our partners get to put their logo on the dashboard so that their client gets the agency branded experience whenever they log in to approve the content: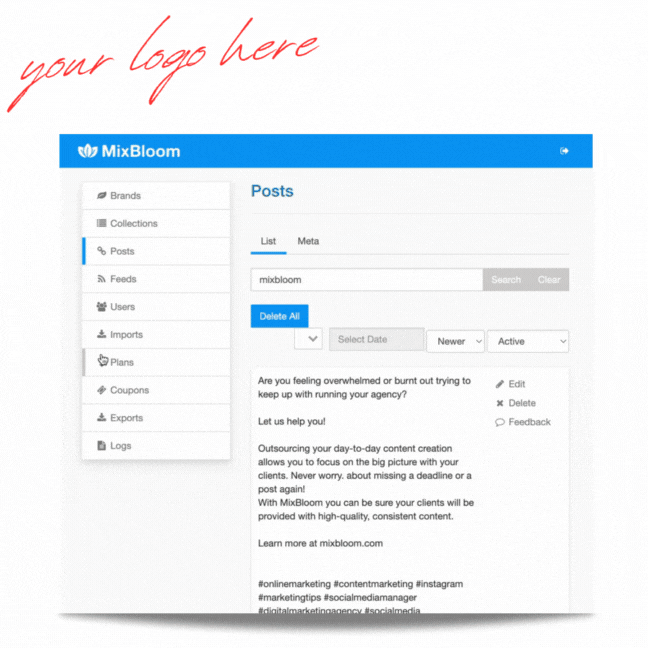 More resources
So now you're armed with the solutions to help you overcome low profit margins, client churn, finding talent, and doing your own marketing as an agency owner. Which of these will you tackle first? Please book a free strategy call with us if you want to discuss more -- and learn exactly how MixBloom can make your life way, way easier :)
We hope this information helps you scale your social media management business so you can serve more clients, make more money, and have fun while doing it. Thanks for reading!
If you enjoyed this post and want to learn more, check out our other resources for agency owners:
Our free ebook How to Scale Your Social Media Agency for a high level strategy that will prepare you and your agency to achieve stratospheric growth in 2023!