Related: How to Create a Brand Style Guide for Social Media Social media is a growing industry and with thousands of social media agencies starting up, scaling up and growing, there's a crowded market leaving it more difficult to stand out within the competitive landscape.
As freelance social media marketers and agencies, we're masters of our art and we can have a perfect marketing strategy and strong social media presence but when it comes to landing new clients, it all comes down to the success of the pitch.
Nowadays, it's not enough to have a website with a list of services and your testimonials to showcase what you can do to win over potential clients. You have to be able to encompass everything that makes your agency and pitch this in a way that the client will choose you over others.
This is where your agency pitch deck is vital. The way you present your agency will determine whether you sign the client over the dotted line or your competitor does, so it's worth putting in the effort to make and use one, right?
In this article, we'll introduce you to agency pitch decks, what they are and how to create a successful pitch deck, which will be sure to help you win those all-important clients.
What Is an Agency Pitch Deck?
A pitch deck is a presentation of everything that makes up your agency so that you can pitch what your agency can offer to potential clients - essentially a sales tool that will boost your chances of winning business.
It's almost a sales pitch to make potential clients choose you over your competitors. It should include all of the information about your services and what the client can get out of your agency - such as the benefits and what makes your agency unique compared to the rest.
Be specific! Your pitch deck is a chance to get in some stats and figures about what you have achieved for existing clients. If you've increased your clients' Instagram followers by 200% or if you know how much ROI has been achieved since a client has been working with you, shout loud and proud about it in your pitch deck.
Depending on your agency and your clients, your pitch deck will either be shared with potential clients in-person or over video, where you will share the screen.
There are a few different ways you can make branded and eye-catching pitch decks to accompany your proposals. 
As with all presentations, often the go-to for businesses is Microsoft PowerPoint or Google Slides. Of course, this software is perfectly fine for creating an agency pitch deck - especially for time-strapped businesses. 
However, if you want to give your agency pitch deck extra pizzazz, it's worth investing some time in creating a professional and creative presentation using graphic design software such as Canva or Adobe InDesign. If your agency offers graphic design within its social media management services, you'll also want to wow potential clients with what you can do. First impressions count, and your pitch deck will be one of the first things that your future clients will see. 
Now you know the whys and hows, we're going to explain what you should be putting in your pitch deck.
What to Include in Your Pitch Deck
Introduction
To start off, you'll want to introduce your social media marketing agency - perhaps an overview of who you are and what you do, such as a brief description of your services. 
The key here is for it to grab the audience's attention straight away and make sure it makes the client feel it's worth their time to listen to the rest of the pitch.
It's a wise idea to personalize each pitch deck to the client that you're presenting it to. Having a personal touch will definitely score you points - research all you can about the client and what you're going to present that will help them to achieve their goals and boost their social media presence. 
Your Unique Selling Proposition
What makes your agency special? Sure, there are lots of social media agencies offering the same services, but what do you do or offer that is distinctive compared to your competitors? 
Whether it's a service that no one else offers, a niche that only you have specialized in or a certain benefit that you can give your clients, you should drill this into the minds of the client in your pitch so they know that they'll be getting something extra from you that no one - or not many agencies - offer. 
Social Proof
The science of psychology plays an important role in marketing and it should be taken advantage of in your pitch deck through social proof. 
By definition, social proof is "A psychological phenomenon where people assume the actions of others in an attempt to reflect correct behavior for a given situation."
Where social media marketing is concerned, this is about convincing the client that the work you do is worth their time and money because you have shown what you have done for others or who you have worked with.
For example, you could show your existing client logos - particularly if they're a well known brand - on a page of your pitch deck. If you reveal that you have worked with so many established companies, it's going to assure the potential client that you can do the job and do it well, making your business and its services more credible.
Won an award? Shout about it here too. If you brand yourself as award-winning, the client will perceive this as a good indicator that you're worth the investment.
An Overview of Your Team Members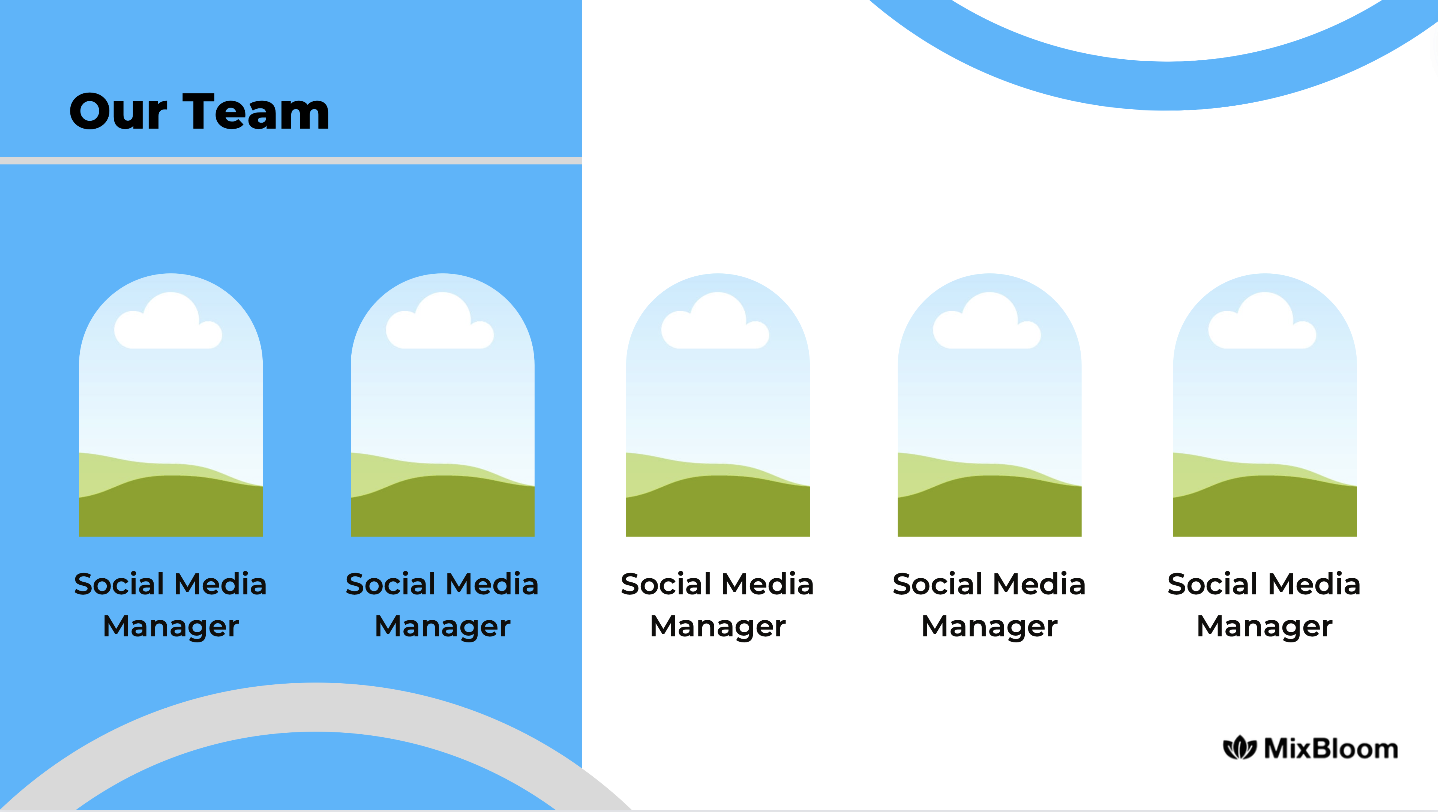 Show the faces behind the brand. Giving an overview of your team - their roles and accomplishments - will showcase the professionals and the talent that keeps your agency ticking, and who will be helping the client achieve their social media marketing goals. 
Not only this but it gives the client some familiarity with the brand - they'll know exactly who they'll be working with, taking away some of the anxiety that comes with partnering with an agency that you don't really know a lot about.
Putting faces to names with a headshot will help you build a good relationship with the potential client and can often increase the trust they have with you.
Statistics and Data About the Impact of Social Media
Other than pitching your agency, you should also put some focus on social media in general to help the potential client understand why they need social media and how an agency - like yours - can support their social media and overall business goals.
Think about what can be achieved - with proven stats and figures - with your help, such as how your social media support can raise brand awareness, increase engagement, generate leads and ultimately boost sales.
Do some research on what the potential client's competitors are doing on social media - this will give them a grasp of what they need to do to compete with them via their social channels.
Why Choose You
We've established that your pitch deck is a powerful sales tool so there should be a section explaining why the client should choose you. 
You've already outlined your USPs, built your credibility through social proof and earned some trust by showcasing the humans behind your company - these are all selling points that can work in your favor. 
In this section, bring all these points together to emphasize why your agency is the best for the job.
An Overview of Your Packages and Breakdown of Your Services
This is one of the most important aspects of your pitch - it's all about promoting exactly what your agency offers. 
The client will know you 'do' social media but for your agency, what does this mean? 
Break down all of your services and use the time to educate the potential client on what each one means - and more importantly - what it means for them. 
For example, it's not entirely helpful to say that you offer social media management. 
What does this look like? Mention strategizing, content creation, scheduling, engaging and analyzing, and how each step is an important factor in reaching their goals.
If you're a multi-faceted agency, here's a chance to 'show off' all of the other services you offer, such as graphic design, traditional marketing, SEO and PR. This can be a great opportunity to get more business and upsell your other services, even though the main focus of your pitch deck is social media marketing.
Give them a rundown of your packages too - so all of the options they have if they brought your agency on board. 
Do you have a starter, an intermediate and a professional package? 
Show what each package entails, its price and how it will benefit the client. Your packages should be introduced from the lower-end up, so that your higher-end packages - where they get more service for a higher price - stand out.
Your Processes
Here, you should focus on the processes you have in place that makes your agency and the working relationship with a client run smoothly? 
When it comes to communication, approval, and working together with a client - what is expected from both sides? 
Here's a few things to think about when it comes to explaining your processes: 
How will you communicate with each other and when, or how often? 

How and when will you create the social media content? 

How and when will you send the posts for client approval and feedback?
This gives the client a bit of an insight into what it will be like to work with you. 
Examples of Your Past Work
It's very rare that a client will agree to work with you without seeing what you have done for others.
Sure, the social proof section gives them an idea of who you have worked with previously and any credentials you have but it's time to give it some substance. 
Examples of your past work shows that you're transparent about the work you've done, and often transparency = trust. 
Displaying examples of successful social media campaigns that you've recently worked on is a good starting point.
Other than this, examples of social media graphics you have produced, engagement that you have achieved or any analytics reports are always a winner.
Case Studies
After you've shown examples of past work, it's now time to make this more credible. 
Share some case studies from current or previous clients that you've worked with - this can go into full detail - from start-to-finish - on what you did and achieved for the client, or it can be a bank of short and sweet testimonials and reviews. 
Thank You Page
And that's a wrap!
You've reached the end of your pitch deck. 
It's polite to always thank the client for their time listening and watching a pitch, so your agency pitch deck should end on a friendly note.
This page should be quite simple and give the clients the opportunity to ask any questions they have about any of the sections in the pitch deck.
While a pitch deck can take a lot of work and time to create, we strongly recommend making one to give you the edge when you come to your next client pitch. 
Struggling for time? Don't worry, we've got you covered - download our free Canva pitch deck template!