Thinking of outsourcing your social media?
When your business is just getting off the ground, it can seem like there are simply not enough hours in the day.
You've got meetings back-to-back. There's a business plan to write. A pitch to prepare for. To top it all off, you've got an overflowing inbox.
We get it. It's a time when things like blog writing and social media sharing is just not at the top of your list.
You squeeze in a few tweets here and there to keep things ticking over. But you still have this nagging feeling that you should be making more out of social. Maybe it's time you thought about outsourcing your social media…
Is outsourcing your social media a good idea?
We understand why you might be having your hesitations about outsourcing your social media.
Is it the right time? Can I trust someone else to communicate with my audience? Will the results be worth the investment?
Yes. Yes. And Yes.
Here's why:
Your social media accounts will be managed more effectively
You may be an avid user of social media yourself. But can you run the show like a pro?
Outsourcing your social media means you'll have a social media manager or agency taking the lead.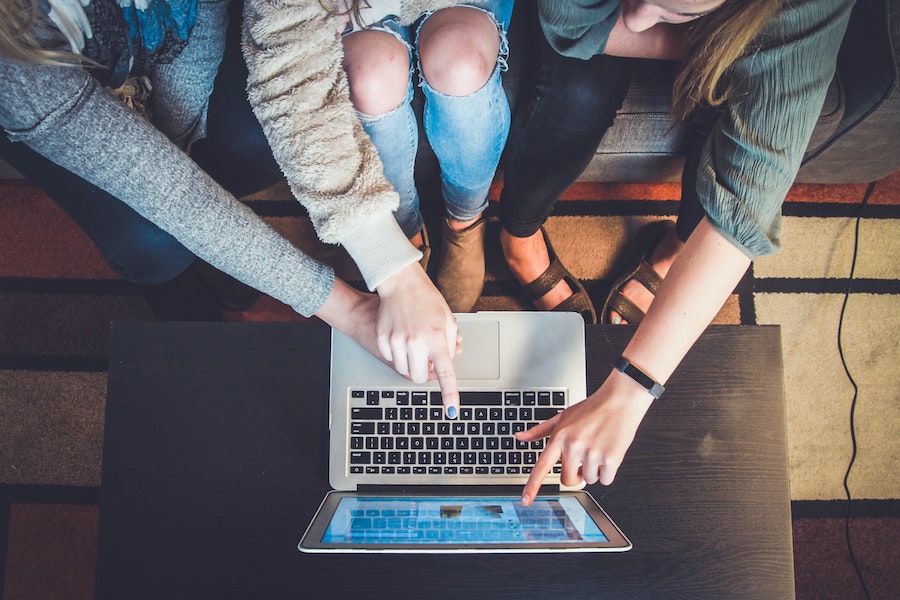 A good social media manager:
Monitors trends daily (even hourly!)

Knows the latest best practices (hashtags, mentions, etc)

Understands how to read social metrics and put forward a strategy

Will learn about influencers and competitors in your industry and monitor their social activity

Can research, write and design compelling posts – it's their job

Can work with consistency, maintaining a regular presence on social network – something you probably can't and, really, shouldn't do yourself
All of the things mentioned above are absolutely necessary to run a smooth, orderly, and successful business social media account.
Sure, you can technically manage your own social media profile. But are you the best person for the job?
It's like discussing the difference between having a professional web developer take care of your website or giving it a go yourself. DIY is possible- but will it produce the best results?
The importance of consistency
The biggest problem we see with business owners trying to manage their own social media is the lack of consistency.
With the 101 jobs on your list, tweets can be forgotten, and blog posts never written.
It can only take a few great posts for you to get noticed on social. Equally, it can take just a few missed updates to fall off of your audience's radar.
By outsourcing your social media, you'll have content being shared from your account as often as needed (that's in general, 3-10 times a day). Whatever posting frequency you decide on, one thing will be for sure: it will be consistent.
This means that your audience won't suddenly start unfollowing once they see that you haven't posted in months (perhaps wondering if you're still in business).
Instead, they'll become used to seeing your content on a regular basis, and will quickly become familiar your brands' stripes (see what we did there). This will likely lead to higher engagement too. Winner!
Spend your time on what really matters
Outsourcing your social media doesn't just make your business more visible to your target market. It also has a direct impact on aspects of your business that would, at first, seem completely unrelated. 
Let us explain.
By freeing up the time you would be spending curating and sharing content, you have more time to grow your business into a real asset.
So, instead of working in your business, you get to work on your business. 
This line comes from one of the best business books ever written, The E-Myth Revisited, which introduces several strategies to essentially hire your way out of your small business. Build a machine if you wish, that works without your involvement. Build an asset that is potentially valuable to someone else.
It's unlikely that you launched your business to simply give yourself a job. Chances are you have a long-term goal to create a brand that you can either continue growing for the long term, or sell as an asset. What sort of asset requires the owner to spend hours each day researching and writing content for social media?
It's you who knows how your business can become what you envision it to be. And it's that knowledge paired with sufficient time that can make your business a success.
Outsourcing your social media is a great opportunity to start focusing on building your assets, and leaving the nitty gritty of the work to a trusted team of people. (And to allow yourself a little extra time by the pool).
Mistakes to avoid when outsourcing your social media
Convinced outsourcing your social media is a good idea? Great!
Before you do, here are some common mistakes founders make when hiring their social media managers, and, more importantly, how you can avoid them.
Mistake #1: Hiring the wrong person
Seems obvious, doesn't it? But every founder knows that hiring the right person isn't always as easy as it sounds.
If you look on big freelance sites such as Upwork, Hubstaff Talent and Simply Hired, you'll get hundreds of writers, content strategists and social media managers staring back at you.
How do you choose?
The biggest mistake people make here is hiring just writers, or just content strategists and assume that they have the skills to do everything.
This is not always the case. A writer might have the skills to research and put together a great piece of content, but do they understand your brand? On the other hand, a content strategist could have a great grasp of analytics and goals, but lacks the creativity to create engaging posts.
If your budget allows, a good option would be to hire a content team. This way you can rest assured that every aspect of your content is being taken care of properly. As a minimum, this should include:
Writer: researches and writes content

Editor: revises content, adds images and edits for good visibility

Strategist: analyses performance and implements strategy
Want to know where to find the right social media manager? We show you where and how to find the best talent here.
Here at MixBloom we have a professional team of writers and social media managers who understand social for business. But we'll get to us later.
If you only want to hire one person to manage and write your content, make sure you look out for the following skills:
Excellent written communication

Creativity: can they write or design beautiful, compelling posts?

Solid understanding of trends, best practices, and social media analytics

Experience in managing business accounts: do they understand metrics, strategy, and goals?
Mistake #2: Going too cheap
There's an old saying that goes, "buy cheap, buy twice."
Sometimes it may seem like you're getting a really good deal, but what you're actually getting is a subpar service.In other words, if outsourcing your social media seems too cheap: think twice.
If there's one person who is far cheaper than the rest, it's probably because they either (a) undervalue the importance of their work or (b) they're inexperienced.
With something as visible as social media, it's really important to get the best that you can afford.
However, that doesn't necessarily mean expensive. You want to aim for someone between instant chicken noodles and a Michelin Star restaurant.
In fact, there is also a strong argument for not spending too much on outsourcing your social media.
Which leads on to our next point…
Mistake #3: Spending too much for the ROI that social can provide
The large social media agencies that serve big brands are probably not the right fit for a small business.
Why? You'd be paying for their team of 50 and the CEO's fancy new car. Will the return from your social media marketing ever cover the expense of tens of thousands a year?
For a big brand, yes. But it's unlikely for a small business.
The best way for small businesses to keep costs down is to hire freelancers on sites such as Upwork, Hubstaff Talent and Simply Hired. Most work on an hourly rate that you can negotiate depending on their experience.
With MixBloom, pricing is an important part of our appeal to small business owners. At the rates we offer, we can provide an excellent ROI and save you countless hours spent hiring, testing, firing and hiring again…
Mistake #4: Spending too much time on feedback, edits, and changes
Outsourcing your social media is supposed to save you time and help you get better results.
If you're constantly having to edit, give feedback or even re-write the content yourself, it kind of defeats the point.
The key takeaway here is: if you're having to micro-manage your social media manager or agency, then they're not the right person for the job.
MixBloom's level of expertise in sourcing, writing and optimizing content means it's unlikely that you'll need to edit our work. Our experienced writers spend time getting to know your brand, so you can rest assured that your content will sound, look and feel like you.
If you do want to make a few tweaks, though, we make it super easy for you to edit your posts within your own schedule. No lengthy editing sessions; no feedback emails required. It's all handled through your MixBloom dashboard.
Mistake #5: Failing to keep an eye on the content produced for you
Imagine this: you hire a social media manager. You assume (why wouldn't you?) that they'll be writing and posting highly relevant, interesting content that will bring you lots of traffic.
One day you check your twitter. Turns out your social media manager has been posting cat memes for two months…
Not ideal.
We understand that a lot of business owners want and need the option to approve or reject anything that goes out of their accounts. And they're right to!
With MixBloom, you can not only edit or dismiss a post, you can add your feedback too – which will be read by the team and your social media manager, so that your preferences will be updated in time for your next batch of content.
In fact, with MixBloom you can keep an eye on your content whenever, wherever: on your mobile, on the web, and even through a weekly email! In short, you're always in control.
Mistake #6: Lacking consistency and frequency
It's been mentioned before, but it really is an important point.
Consistency and frequency are what keep your social media alive and kicking.
Posting only every once and a while, without sustaining a frequent schedule, can be a disaster for your social presence. Given the noise level on social, writing 2-3 posts a week is simply not enough if you want a successful social media account.
When outsourcing your social media, make sure you discuss your scheduling calendar.
How often and at what optimal times will your team be posting at? Unfortunately, some teams need more prodding than others!
Of course, you will also have to make sure that your budget allows your outsourced team to dedicate enough time to post frequently and consistently.
With MixBloom, you can be safe knowing there will always be someone taking care of your social media professionally and cost-effectively- 365 days a year.
Mistake #7: Not giving third-party content enough importance
Your social media accounts are a great place to tell your audience about your latest company news, products and services.
However, if all you post about is you, chances are your followers will get bored pretty quickly.
But there's a bigger reason to share third-party content: sharing others' posts is a great way to build connections in your industry. See it as a way of giving a virtual fist-pump to people in your industry. Chances are, they'll fist-pump back!
If you see great content written by others in your industry (but not direct competitors, of course!) that you think your followers would enjoy- share it!
Pro tip: make sure you always tag the author or companies mentioned in the post. This boosts your chances of getting retweeted – which could pay dividends in follows, likes, comments and other brand-boosting engagements.
At MixBloom, we make sure your accounts have a perfect mix of original and tagged third-party content. Try MixBloom with our 14-day trial (100% no-risk guarantee), start with booking a free consultation.
Mistake #8: Failing to re-share your posts
After all the hard work that goes into sourcing, curating, writing, scheduling and posting each piece of content, it would be really (really) sad if a huge percentage of your audience didn't actually get to see it.
With social media moving at such a fast pace, it's almost impossible to make sure all your followers see every single one of the posts your wrote to promote your content or services.
However, there are ways to maximize your exposure.
Your social media team should be working on constantly re-posting your best content, especially those you use to promote your blog posts, services, ebooks and other assets. They may even choose to use automation tools like Buffer or Hootsuite for this.
For example, one piece of content could be reposted several times throughout the month. This way, you double, triple, quadruple the chances of your content being seen.
This needs to be done in a way that the exact same post doesn't get posted again and again (so as to not annoy your followers). However, done well, it's a highly effective way of getting a higher ROI from your social media management.
At MixBloom, your social media manager will write unique posts for you every week. When we recommend a blog post of yours to your audience, it will always be with new words. Our aim is to make sure every post is given the best chance of reaching your potential customers, without annoying your audience!
Key takeaway – what you can do today
We hope this post has convinced you that you need to outsource your social media, and given you the insider knowledge to make sure your social media team are smashing it.
If you're looking at outsourcing your social media management, why not start with MixBloom's 14-day trial (100% no-risk guarantee)?
Start with booking a free consultation.